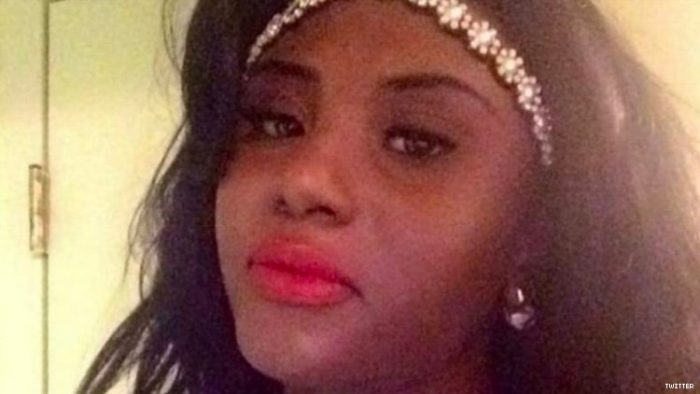 Yahira Nesby was a 33-year-old Black trans woman who has lived in the Brooklyn and Bronx boroughs of New York City. She was born and raised in North Carolina where she had attended Vance High School and Central Piedmont Community College. According to the New York City Anti-Violence Project, Yahira participated in New York's ball scene and was a member of the House of Chanel as Yai Yai Chanel. She has worked for Macy's.
On Thursday, December 19, Yahira became the most recent victim of fatal anti-trans violence. From NewNowNext:
Nesby, 33, was gunned down Thursday, December 19, according to police who responded to a 911 call just after 4:20pm at her Rockaway Parkway apartment in Brooklyn.

The New York Police Department told NewNowNext in a statement that they "discovered a 33-year old female with gunshot wounds to the chest and leg."

She was pronounced dead at the scene. Police said a 39-year-old male was found at the rear of the building with a leg injury indicative of falling from an elevated position. He was taken into custody for questioning, but currently there have been no arrests made and the investigation is ongoing.
Yahira is at least the 22nd trans neighbor to be killed in 2019. Actor Indya Moore tweeted
"A black trans woman was murdered in Brooklyn Yesterday. Her name was Yahira Nesby Aka Yaya. My thoughts are with her family. New York fam. Please please please please be watchful and careful of these men. I beg of you."
There are conflicting reports on the connection of the man who was detained and Yahira. We will monitor this story for more information, including final arrangements for Yahira.
Rest in power, Yahira. You deserved to soar through your adult life with the joy and love of your friends and family. I am so sorry that we did not do better by and for you. Knowing you died near your own home in the middle of the afternoon is a sad reflection on all of us and a call to do better for all trans neighors.
---
My list of transgender neighbors lost during the calendar year 2019. It seems each year in this process of documenting the lives and deaths of our trans neighbors, the numbers start to differ – folks are using different criteria. Details about too many deaths are obscured or never come to light making it hard to pin down just how many transgender neighbors are caught up in this epidemic each year. I try to be as accurate as possible with details for the discrepancies listed below. I know that no list like this one could ever be comprehensive or thorough.
Dana Martin – Montgomery, Alabama. January 6, 2019. Age: 31.
Ashanti Carmon – Fairmount Heights, Maryland. March 30, 2019. Age: 27
Claire Legato – Cleveland. May 14, 2019. Age: 21
Muhlaysia Booker – Dallas. May 18, 2019. Age 23.
Michelle Simone Tameka Washington – Philadelphia, May 19, 2019. Age 40.
Paris Cameron – Detroit, May 25, 2019. Age 20.
Chynal Lindsey – Dallas, June 1, 2019. Age 26.
Chanel Scurlock – Lumberton, North Carolina, June 5, 2029. Age 23.
Jazzaline Ware – Memphis, Tennessee, March 2019. Age 34. **
Zoe Spears – Fairmount Heights, Maryland. June 14, 2019. Age 23
Brooklyn Lindsey – Kansas City, June 25, 2019. Age 32
Denali Berries Stuckey – Charleston, July 20, 2019. Age 29
Kiki Fantroy – Miami, July 31, 2019. Age 21
Pebbles LaDime 'Dime' Doe – Allendale, South Carolina, August 4, 2019. Age 24
Jordan Cofer – Dayton, Ohio, August 4, 2019. Age 22.
Tracy Single – Houston, Texas, July 30, 2019. Age 22.
Bailey Reeves – Baltimore, Maryland, September 2, 2019. Age 17.
Bee Love – Clewiston, Florida, September 6, 2019. Age 21.
Itali Marlowe, Houston, September 20, 2019. Age 29.
Brianna Hill, Kansas City, October 14, 2019. Age 30.
Nikki Kuhnhausen – Vancouver, Washington State, June 6, 2019. Age 17.
Yahira Nesby – New York City, December 19, 2019. Age 33.
** Jazzaline Ware's body was discovered in her apartment in Memphis, Tennessee in March. Cause of death was originally death by suicide, but according to The Advocate, authorities are now investigating her death as a homicide.
*** The death of Keyiariah Quick on August 10, 2019 in Carthage, North Carolina has been called into question. We will continue to monitor those details. Keyiariah was 25.
*** The death of Elisha Chanel "Diamond" Stanley on September 16, 2019 in Pittsburgh has been ruled an accidental overdose. We have more information here. 
**** Ja'leyah-Jamar Berryman was killed in September across the state line in Kansas City, Kan. Initial reports identified the victim as a trans woman, but Berryman's family released a video saying Berryman was male. In keeping with LGBTQ media outlets, I have removed Berryman from my list pending any further information.