Pittsburgh Lesbian Correspondents was established in December 2005 as an outgrowth from various radio appearances founder Sue Kerr made as Pittsburgh's "unofficial lesbian correspondent."  Her original intent was to promote the positive things happening in Pittsburgh's LGBTQ community – specifically focusing on media coverage and the letters to the editor submitted to regional papers.
She quickly became one of the city's most well-known political bloggers for her rigorous exposure of LGBTQ issues. She attributes being labeled as a political blogger to the fact that simply living as an openly LGBTQ person, especially in socially conservative Southwestern Pennsylvania, is a political act.
Sue was born and raised in Pittsburgh, the daughter of five generations of steelworkers. She received her BA in Political Science from Marymount University and an MSW from the University of Pittsburgh. She is a fierce believer in the intersection of social justice and LGBTQ advocacy.
While her blog focuses primarily on local and regional issues, she has been invited to contribute to Pam's House Blend and several statewide blogs to highlight issues of national concern. Sue is a co-founder of The Pittsburgh Women's Blogging Society. She has the distinction of providing the first "live blog" of a Pittsburgh City Council hearing as well as partnering with another local blogger to "live tweet" the Allegheny County Council's hearing on a non-discrimination ordinance. She's creative in using social media even when historic buildings and limited Internet access stand in the way of transparency.
In 2011, the Pittsburgh Post-Gazette invites Sue and her partner, Laura, to submit a response to homophobic slurs used by the Pittsburgh Steelers' James Harrison in an interview with a national men's magazine. Sue has also been a guest discussing LGBT issues on local talk radio programs as well as sought out for background information and comment by local print media. She has written for the Pittsburgh PrideGuide and was the host of Pittsburgh's first lesbian podcast, Sister Shout.
In 2004, Sue was named one of Pittsburgh's 40 Under 40 young leaders. In 2010, she was the first lesbian to be named to the "Listed" by local blogger Infinonymous along with openly gay City Councilman, Bruce Kraus.  In 2011, Sue was also a finalist for a "Locker-Room Leadership" award for her social justice work as well as a nominee for the "Women Greening Pittsburgh" award. In 2010, she was named "Lesbian of The Year" by the Keystone Alliance Gaylife Newsletter. In 2012, the blog was voted "Favorite GLBT Media Publication" by newsletter readers while Sue was honored as the recipient of the "Stacey Walker Memorial Award" by the editorial team.
Sue currently serves on the LGBT Planning Committee for Netroots Nation 2013.
Sue and her partner "Ledcat" live in the City's Northside.  Ledcat is an occasional contributor to the site.
Follow Sue on Twitter @PghLesbian24
Email: pghlesbian at gmail dot com
Mailing Address:  SueCat Social Media LLC  * P.O. Box 99312 * Pittsburgh PA 15233 *
If you would like to join the Correspondents team, please email or tweet at us.
Pittsburgh Lesbian Correspondents is a project of SueCat Social Media LLC. All rights reserved.
**********************************************
This blog proudly built by snowflakes, social justice warriors, and the politically correct.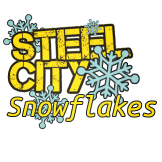 Join the Steel City Snowflakes with a one time or recurring investment in our projects.  Click the image  to see our current snowflakes.
Follow us on Twitter @Pghlesbian24