Content Note : trauma, neglect, family rejection, mental illness
I don't clearly remember the details of the last holiday meal I spent with my parents, but I know it was ten Thanksgivings ago. We were at Laura's mother's house and they were late. I was struggling mightily with mental health symptoms and not admitting yet how bad it was. I remember thinking that my parents were embarrassed by me, perhaps I was talking rapidly or loudly. I was proud that I had lost 50 pounds and kept pointing it out to my father who had welcomed me home from my first year of college by noting that I had put on the dreaded 'Freshman Fifteen.' He was impatient with me about it instead of giving me the positive reinforcement I craved. Or, more importantly, instead of listening to Laura tell him how ill I was.
My parents were not able to be there for me when I was desperately symptomatic, nor were they able to offer Laura support as she walked through that with me. A few months after the holidays, I was working hard in a Intensive Outpatient Program at Allegheny Health Network and we invited my parents to dinner. My mother didn't show up because she was mad at my father and my father spent most of the evening talking about what I needed to do to help my mother and him.
I spoke with them a few more times, always trying to set the boundary around not asking me to be part of their interpersonal dynamic because I had to care for myself before I could help other people or navigate those relationships. And they couldn't do it so we just drifted further and further apart. The drift was intentional on my part because my hard work to recover my mental health was a gradual acknowledgement of how much trauma and neglect had been part of my childhood. Those same dynamics, unresolved in my parents, were constantly intruding on our adult interactions and I simply did not have the energy or stamina to deal with my past and their present without some work on their part.
Being cast in the role of caretaker while also serving as the sin eater has done a number on the first 49 years of my life, almost literally out of the gate when infant me was temporarily put into the care of relatives who caused and covered up the most egregious harm among our generations.
I'm exhausted with all the pretense. I want answers, especially from the adults in my extended family who did not save us as children. Why not? I'm a little tormented by their failures to help us.
I spent a few Thanksgiving mostly alone while Laura was with her family; we would go to a restaurant for dinner. A few times, friends invited me over and that was very nice. And eventually I began spending holidays with her family again – nice times, but a real reminder of what I've lost or perhaps never had.
I miss my parents and my extended family. I desperately wish I would reach out to them to help me understand and put into context the trauma memories that are part of my EMDR and CBT therapies, but I'm just on my own there. I feel deep compassion for what I've learned about their own life experiences and I still wish recovery for all of them. But I'm still angry that not a single relative acknowledged when I earned a national award for my work. That's pretty lonely.
But I am absolutely too vulnerable to reach out now. I have no reason to assume they are more recovered and able to meet me in the middle. My extended family is enmeshed in their own variations on this theme that can be traced back three or four generations. We have Facebook relationships. That has to be enough.
Perhaps ironically, Thanksgiving is my favorite holiday even enmeshed in complicated histories of its own. I think it was because the premise in my not-very-religious family was simple – eat a good meal. No arms race of gift giving, no religious themes. Just a good meal and a lot of dishes. I try to block out the harsher memories and soften it to just a holiday with a meal and no expectations. It feels like a gift to myself to remember some simply okay moments.
I'm a fortunate one to some extent because I've landed into families that take pains to include me in the gatherings. And Laura and I have carved out our own personal traditions and rituals for our small family. Our holidays are nice.
I suspect my nostalgia right now is tied to the significance of ten Thanksgivings as well as to the work I'm doing in EMDR. I'm a little conflicted between anger that all of this happened and hope that it can be resolved for me and by me to give me peace moving forward.
It's much easier to allow people to assume my family rejects me for being queer than for being a loud mentally-ill person looking for information. Both are terrible anyway and not easily separated, either. I feel so guilty for the impact of my symptoms on my parents and brother, but I'm not going to keep eating sins in silence.
I hope one day they'll be willing to listen.
---
Support local blogging by clicking on the Patreon button in the upper right column on this page.
---
**********************************************
This blog proudly built by snowflakes, social justice warriors, and the politically correct.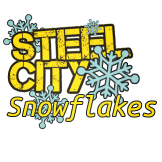 Join the Steel City Snowflakes with a one time or recurring investment in our projects.  Click the image  to see our current snowflakes.
Follow us on Twitter @Pghlesbian24
This post and/or others may contain affiliate links. Your purchase through these links support our work. You are under no obligation to make a purchase.