Last night, we took a drive into Regent Square to hear singer/songwriter Eve Goodman perform at the Square Cafe.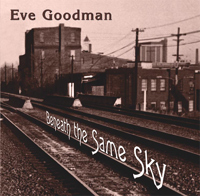 She's great. We heard about her performance through a local Queer Events email list and thought it sounded like a nice evening. So off we drove. It was well worth the $98.34 in gas (kidding). 🙂
Eve is very personable and her music was thoughtful and entertaining. I enjoy live music somewhat, but get kind of bored quickly as my attention wanders. Especially when the artists performs 17 monotonous songs about their inner thoughts on, well, anything.
Eve ain't like that. Her introspection felt universal, not self-centered. She has some delightful numbers on her partner's 94 year old grandmother and two best buddies, Big Dog and Little Wag. Her parents were in attendance which made it just seem somehow more cool.
Laura is defintely the musical one in the family. I enjoy music, but sitting in a smoke filled club (or standing) surrounded by self-styled hipsters listening to someone whine about their life is not my idea of a good time. The environment destroys any connection I may feel with the performer. Hence, the Square Cafe is perfect — no smoke, lots of seats and really delish hummus.
Check out Eve's website for her performance schedule. You'll be happy you did.
ps: I bought both her albums.
**********************************************
This blog proudly built by snowflakes, social justice warriors, and the politically correct.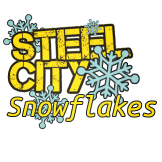 Join the Steel City Snowflakes with a one time or recurring investment in our projects.  Click the image  to see our current snowflakes.
Follow us on Twitter @Pghlesbian24
This post and/or others may contain affiliate links. Your purchase through these links support our work. You are under no obligation to make a purchase.