**Disclosure: We are a participant in the Amazon Influencer program, an affiliate advertising program designed to provide a means for us to earn fees by linking to Amazon.com and affiliated sites. In addition, I may be compensated for purchases made via my Amazon Influencer page.
** I have no idea how the Influence program will pan out, but I will always include this disclaimer when I share links. I order A LOT from Amazon – it is a wonderful tool for folks like me who live with massive anxiety.
There once was a cat named Boris, born in the spring of 1996. He was adopted by his human along with his sister, Natasha. Boris had a long, peaceful life filled with lots of lap snuggles, the occasional Dorito, and playing with his toys by himself.
After Natasha passed, Boris decided to 'adopt' our cat Simon as his new cuddle buddy. Who can blame him – he had Natasha for a long time as his constant companion. She passed in 2014, so he looked around and decided to pick the next eldest cat with a warm furry coat and a history of willingness to snuggle.
So Boris and Simon passed through a bit more than three years as later-in-life companions. Simon wasn't exactly always open to it, but as long as Boris had his soft blanket in his cat (dog) bed – he was happy. For several years, his bed occupied the middle of the sofa, like a soft throne.
And Boris would play, usually when he didn't think we were watching. He LOVED catnip filled items – we had a pumpkin, a banana, and a rainbow that he loved (especially pumpy!)
Toward the end, he was going to the vet every other week for what I called his lube & oil change – he would get an antibiotic injection, have his hydration checked, and be on his way. He wasn't suffering even though he was over 21 and pretty much all of his organs were in poor shape. He was a tough little motherfucker, eve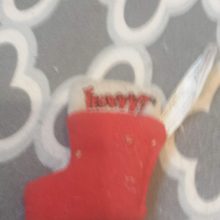 n if he was a quiet bashful one.
On one of those visits, the vet's staff gave him a holiday gift – a little stuffed red stocking from the same company as the ones he loved. Even though we all knew he was too ill to play with it, they wanted to treat him like all of the other kitties. So we tucked it into his bed and he would lick it and occasionally bat it gently about. It was a Yeowww! brand.
Then Boris left this world close to Christmas in 2017. The stocking went into the pile of toys that were rarely touched by our other cats. And life moved on.
In January of that year, we were feeding a feral colony including two bonded females whom we assumed were mother and daughter from a previous year. Mamma Mia, as we dubbed her, had new kittens with her and Maylee as we dubbed the other one, was a protective older sister/aunt figure. It took awhile, but in May of 2018 we trapped both Mamma and Maylee. They both went to the TNR place and returned back to us. Mamma had to be released because of her current kittens, but we opted to keep Maylee as she was clearly very young herself. We put her in the second bedroom with food, water, blankets and boxes.
Althoug she hid under a chair most of the time and hissed fiercely at us, we talked with her every day. And I thought to get her some toys to see if she would use them. So I dug through the pile and found the ones that our other cats never used, including the red stocking. I asked Laura if it was okay to give it to her and of course she said yes. So I put a handful of toys in her room and left for the night.
The next morning, Laura found the red stocking in the hallway – Maylee had apparently batted it under the door. Laura returned it.
Next day, same thing.
Then again.
Maylee was playing with Laura. She had selected her human and was interacting with her as best she could. She wasn't able to bring herself to play directly, so she invented a game. Slowly, she started to spend time in the room while Laura was present and eventually, sniffed Laura's shoe, her glass of water, and even jumped onto a chair close but not connected to Laura's seat.
Every day, the stocking was out. If it wasn't, we would look for it and inevitably find it stuck under something in the room. I added some stuffed mice and they too were occasionally outside the door.
Then Mamma Mia came back into our lives. And then the ceiling collapsed and they were parted AGAIN for three months. The men who cleaned the room salvaged the toys that we then washed. Maylee's stocking came downstairs to the living room where she was living under our sofa while the ceiling was repaired. She batted it onto the floor near the kitchen. Every day.
She met Simon who was a bit more senile at this point and blithfully unaware that he should be afraid/aggressive/angry with this invader. Nor was he interested in the stocking. She met Coco who chased her into the attic one day. Then the ceiling was finished and we chased Mamma Mia back into the room. A few days later, we used our BFFs and their 11-year-old as decoys to chase Maylee out of the attic and back into her room.
Reunited. With a beautiful room and a six foot cat tree next to a big window. We gathered up their toys and put them back into the room.
We found a stuffed mouse outside of the door in the morning. She remembered. And so it continued.
The stocking was occasionally moved, but pretty much stayed in the room. Apparently, she had grown out of its comfort.
---
Donate cat food to support local cat colony caretakers. Visit #CatFoodDrivePgh to learn how.
---
Then we found this kitten whom we named Sun Volt in early May 2018. He and his four siblings, dubbed the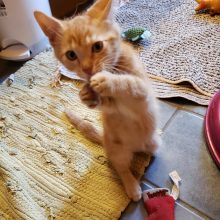 #KittenCaboodle, now live in our (only) bathroom. We repurposed a litter box, a bed, blankets and a small cat tree, from the other cats.
Then I went looking for suitable toys. Very young kittens have to have safe toys, soft and no beads, strings, feathers, etc. I went around looking for the right things and then I thought about the stocking. It was perfect.
And Sun Volt thought so, too, as did his siblings. They wrestle with it, snuggle with it, bat it amongst themselves. It hasn't been tossed into the hall yet, but they don't seem to realize there's a world outside of their little bathroom. They haven't even really discovered the sink counter yet. I think.
Tonight, I found Artemis, our little tortie, playing with it.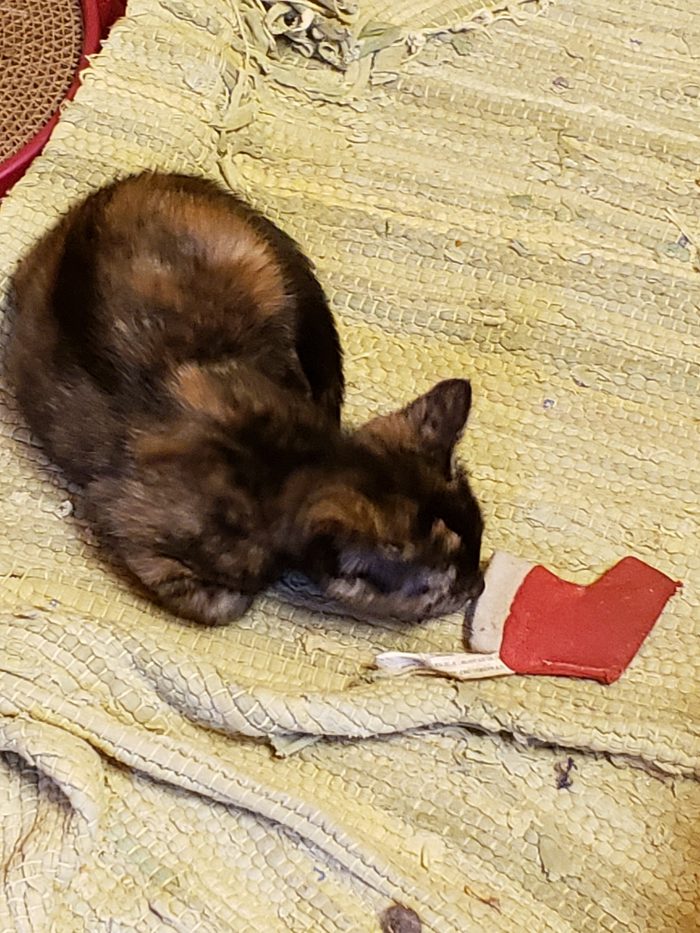 So this little red sock has traveled from our very oldest lived cat (Boris) to our terrified young feral (Maylee) to our most youngest occupants, the Caboodle.
All thanks to our great friends at The Cat Clinic who treated sweet Boris with the same dignity, sweetness, and thoughtfulness as their other kitties by gifting him with this little stocking.
Brought to you by #CatFoodDrivePgh
**********************************************
This blog proudly built by snowflakes, social justice warriors, and the politically correct.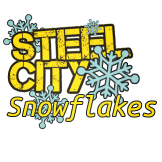 Join the Steel City Snowflakes with a one time or recurring investment in our projects.  Click the image  to see our current snowflakes.
Follow us on Twitter @Pghlesbian24
This post and/or others may contain affiliate links. Your purchase through these links support our work. You are under no obligation to make a purchase.