Welcome to the homepage for our 2020 Cat Food Drive to benefit caretakers of feral cat colonies.
People who provide ongoing care ('caretakers') for colonies of feral cats, including those who have been released, are important in the chain of Trap, Neuter, Release (TNR). Rescue organization helps caretakers construct shelters, set up food and watering stations in all types of weather, and offers support when more complicated forms of veterinary attention is needed. These are the volunteers who crawl under houses, slosh through creeks, and show up to help a neighbor coping with a new-to-them feral kitty.
Caretakers feed, monitor, get medical support, build shelters, offer enrichment, and are the best line to determine which cats can be adopted.
Covid19 ruined plans for our second annual pet food drive for feral cat colony caretakers. Drives and distributions for pets and shelter pets have emerged, but resources for feral cats are limited.
We regrouped. And we created Amazon wish lists for individual caretakers, with their permission. You can browse and respond to stories that resonate with you. Ideally, we hope you'll donate monthly or bimonthly so they know they have support.
Read the caretakers stories.
They are retirees on fixed incomes. They are veterans and social workers. They share their own food. They keep their eyes out for new cats and get them trapped.
We also set up a general list of items to be delivered to our drop-off spot, Mr Sign on Western Avenue. We will use those donations to fill gaps and support new caretakers.
If you would like to donate items in person, please DM us or email [email protected] For everyone's safety, we cannot accept walk-ins.
Funds raised here will cover the mileage for volunteers transporting the donations, purchase essential items not found on Amazon, and help with medical needs when possible.
We know this will be a long difficult year. This is one way to help both the cats and their caretakers. Our volunteers are helping them access human resources when possible.
Who are we? We are cat ladies. All of us have cared for feral cats (and still do) and occasionally, adopted one into our home. You'll learn more about us and our cat stories as the drive unfolds. We all know firsthand that this work quickly can become costly. We want to do something to give back while raising awareness of the really good people who take care of these homeless animals, day in and day out.
Read about our adventures in fostering kittens via the Pittsburgh Cat Ladies posts.
WHAT TO DONATE: these items have been identified by rescuers
Bags of dry food, preferably Purina in the teal blue bag or Meow Mix.
Canned Friskies food, but any quality brand can be used.
Cat treats
Please no open or partially used bagd because of COVID-19 precautions.
Other suggestions can be found on the Amazon Wishlist.
WHERE TO DONATE: we have one permanent drop-off location that can accept your items 24/7
Northside – Mr. Sign retail business along Western Avenue near the West End Bridge. You can leave food on the porch/garage area if they are closed. The address is 1316 Western Ave 15233. The owner is Joe Aiken so please be sure to thank him for his compassion for cats.
**********************************************
This blog proudly built by snowflakes, social justice warriors, and the politically correct.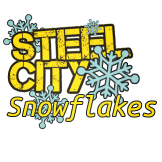 Join the Steel City Snowflakes with a one time or recurring investment in our projects.  Click the image  to see our current snowflakes.
Follow us on Twitter @Pghlesbian24