I left home at 16 and moved in with my best friends family. My friends became my family.
Name: Eli
Age:  41
County of Residence: Allegheny
Preferred Pronouns: He/him
How do you describe your identity? Feminist Trans Man
Please describe your coming out experience. Where did you find support? What challenges did you face? Family was horrible, I left home at 16 and moved in with my best friends family. My friends became my family.
How would you describe yourself NOW in terms of "being out"? I pass and so I put myself when I do community events.
Tell me about the first LGBTQ person whom you met. What impact did they have on your life? My ex her aunt was an old school Butch and She gave me a gay flag.
Past or present, favorite LGBTQ character or creator in television, film or literature? Please tell us why. Les Feinberg because Stone Butch blues changed my life and les and there partner Minnie Bruce Pratt were activist!

How do you stay informed about LGBTQ issues? Facebook ,Instagram , internet
Describe your geographical community.  Urban and friendly in some ways but I feel a lot of queers are annoyed with political queers.
Describe your local or regional LGBTQ community. I feel like politely queers stick together and then there are bar queers and not a lot of mixing.
---
Donate to support the AMPLIFY project
---
Have you ever experienced discrimination based on your identity? Specifically, in a job setting, when applying for housing or while in public. Definitely at a job I had called he/she and porn websites written down for me. Also when I lived with a partner in Mt Oliver when the landlord found out I was Queer she asked us to leave quickly.
Have you experienced microagressions based on your identity? Think everyday indiginities & slights that you experience, but would not characterize as discrimination. Since I pass as male I hear homophobic ,transphobic stuff a lot.
Are there issues impacting your LGBTQ neighbors that aren't visible or part of the local dialogue? Healthcare!
What would you like to see elected officials do to improve life for LGBTQ Pennsylvanians? Healthcare and more training at hospitals and such about being more LGBTQI friendly.
Please share a lived experience, anecdote or fact about life as an LGBTQ person in your community. Talking about and arguing about Pride one pgh being so corporate.
---
Share your story in the AMPLIFY Q&A – here's the form. Plan for 20-30 minutes.
---
Beyond discrimination, what other barriers create challenges for your LGBTQ neighbors? I'd say holding hands as lesbians or gay men or how people perceive you is dangerous still.
What LGBTQ friendly resources are available for your neighbors? Persad
What pieces of local or regional LGBTQ history would you like to preserve and why? Some march that doesn't cost money and is inclusive and community oriented.
What is your greatest fear for the LGBTQ community in Western Pennsylvania? Less community and more corporate Pride if we could get more corporate.
What is your greatest hope for the LGBTQ community in Western Pennsylvania? More picnics, free events.
What can allies do to support your LGBTQ community? Just talk more to friends about being an Ally and don't laugh at homophobic or transphobic or racist jokes.
How can gay men and lesbians support the bisexual, transgender and queer members of our community? More potlucks, more community inclusive events.
What motivated you to take part in this project? Sue and me have known each other for a long time. She is a mentor of sorts and really cares about our community.
Finally, what question should I have asked? Please also share your answer. What can the LGBTQI community as a whole do to reclaim Pride and make events free.
Thank you, Eli.
Read the entire AMPLIFY LGBTQ Q&A archive.
AMPLIFY LGBTQ is a series of blog posts designed to give a "signal boost" to the voices of our LGBTQ neighbors throughout Western Pennsylvania. We are using a Q&A format and will minimize editing their responses. 
Our intent is to highlight the voices of marginalized members of our community who are not always invited to the table or whose voices are not heard. These are glimpses in to the lived experiences of LGBTQ people in Western Pennsylvania as told in their own voices. If you would like to participate, please email me pghlesbian at gmail or visit the online Q&A.
You can read the other Q&A responses here.  AMPLIFY! LGBTQ is a project of Most Wanted Fine Art and Pittsburgh Lesbian Correspondents.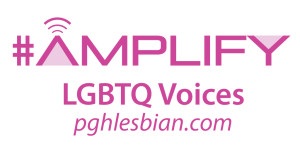 **********************************************
This blog proudly built by snowflakes, social justice warriors, and the politically correct.
Join the Steel City Snowflakes with a one time or recurring investment in our projects.  Click the image  to see our current snowflakes.
Follow us on Twitter @Pghlesbian24
This post and/or others may contain affiliate links. Your purchase through these links support our work. You are under no obligation to make a purchase.