Last year, Laura bought me a Yeti tumbler for Christmas to replace the decrepit old insulated mugs she had been secretly removing from the house (I'm a keeper, she's a tosser.) And I love it! I use it year round and find that it has excellent insulation capacity. For perspective, I can fill it with coffee before we head up to Mercer County to pick up Laura's mom and bring her back to Pittsburgh for a family gathering. That's about 3.5 hours and the coffee is still pleasantly hot. Alternately, I can fill it with ice water for that same trip plus a few hours of a family visit and there istill ice in the mug.
Of course, she was jealous of those mad insulation properties. Her Wonder Woman and Starbucks cups just weren't up to that level of cool.
THEN we learned that the rightwing NRA nuts were pissed at YETI and blowing up their coolrers and mugs in the stupidest boycott ever.
That made Laura really want a YETI.
So this Christmas I bought her her very own blue YETI. Then on Christmas Day, we went to visit her brother and sister-in-law only to discover that they had bought each of us a YETI.
If you are keeping track, that's four YETI's and two lesbians. It is a little Christmas miracle of our very own with a twist of multiplication of YETIs instead of loaves and fishes? Plus, pissing off the gun wingnuts is a definite bonus.
Laura was super inspired to come home and reorganize the cup and glass cupboards during her holiday break. I was inspired to use my new red YETI as soon as possible. And rummage through her "toss" box to salvage some of my stuff. Ha.
I have three pretty sturdy water bottles plus one decent backup bottle (I always carry water with me.) So the very cool pink YETI water bottle will have to be a future gift to myself, but I must say that it screams PghLesbian doesn't it?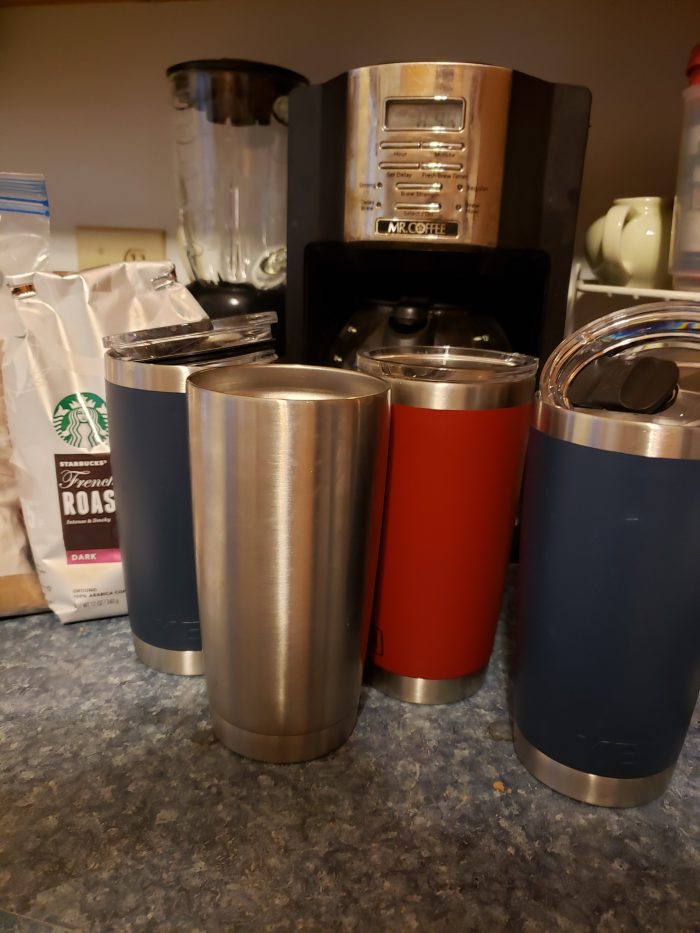 **********************************************
This blog proudly built by snowflakes, social justice warriors, and the politically correct.
Join the Steel City Snowflakes with a one time or recurring investment in our projects.  Click the image  to see our current snowflakes.
Follow us on Twitter @Pghlesbian24
This post and/or others may contain affiliate links. Your purchase through these links support our work. You are under no obligation to make a purchase.