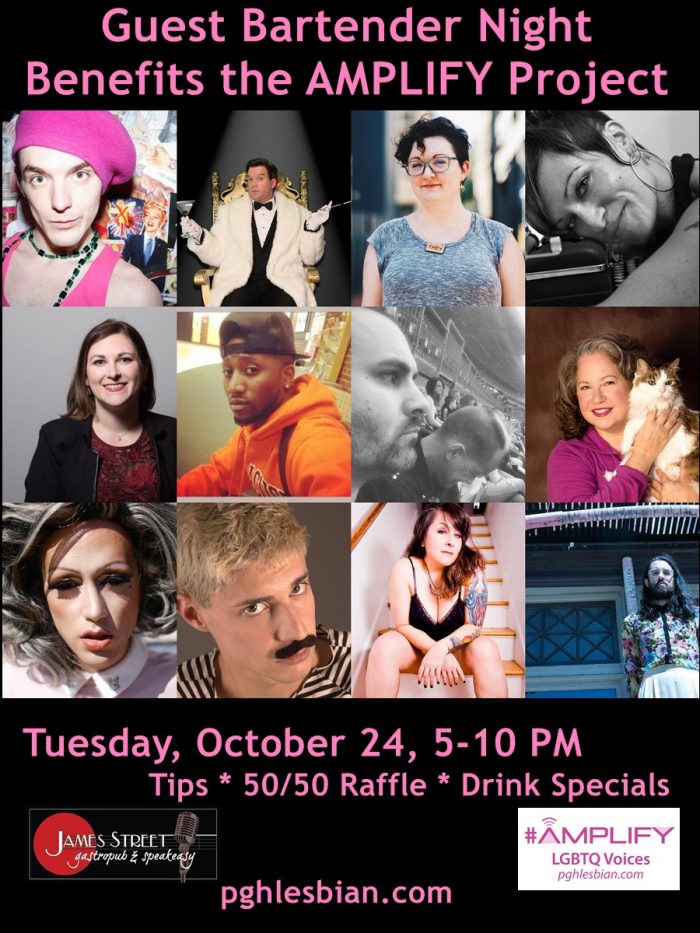 Here's how it will work. Each bartender will earn points for two things – the number of people they bring to the event and the amount of $$ they raise. They are competing among themselves and just for fun, as teams, too. Please note that the actual bartender (the one making anything not beer or wine) is working for a living so their tips are important. Please be generous as they are giving up some tips to help support us.
This is what you do
When you arrive, you check-in with our registration table and tell us which team you are supporting (#TeamKate, #TeamViva, #TeamNaheen, etc) You give us your email address, we'll give your team credit for one attendee.
You buy drinks and tip at the bar in our clearly marked tip jars to support your fav.
You sit at a table, order some food and drinks. You walk up to the bar to tip the bartender and tip your server as per usual.
You buy 50/50 raffle tickets from the Steel City Sisters.
You take selfies with the bartenders, the volunteers, the nuns, the James St staff and each other then post using the hashtag #AMPLIFY. We'll have some special surprises for folks who do this.
What if you can't be there in person and want to still participate?
Leave a virtual tip via our Crowdrise page.  Just leave a comment with the name of your bartender fav. These donations will go through our fiscal sponsor (Persad Center) and so you will get all the appropriate tax paperwork from them. That url is  http://bit.ly/AmplifyBartenders  And yes, this is live now so you can tip ahead of time.
We'll announce the winners at the end of the event and via social media the following day. We plan to go big with tiaras, sashes, glitter, etc, but its our first guest bartending event – keep your expectations on the bartenders not the glitter!
The lineup
5-6 PM John
@CarmanAvenue on Twitter and IG
6-7 PM Brian & Chrissy & Cat
Chrissy: @CMCosta on Twitter and @ChrissyCosta on IG
Cat: @SteerQueerYall on Twitter and IG
7-8 PM Kate & Raylene
Kate: @KT2740 on Twitter
Raylene: @Punkies_Mom on IG
8-9 PM Viva & Naheen & Tristan
Naheen: @NeekSuper on Twitter and @INeekSuper on IG
Viva: @TheVivaValezz on IG
Tristan:  @Reid_Tristan on IG
9-10 PM Princess Jafar & Moon Baby & Alistair
Princess Jafar: @Princess Jafar on Twitter and IG
Moon Baby: @TheMoonBaby on Twitter and IG
Alistair: @SmokinMcQueen on Twitter and IG