Today's post comes from John Chamberlin of Ya Jagoff, and is part of a special day of shenanigans from other Pittsburgh Bloggers. You can see my post over on MelissaFirman.com, where I explore the art of blogging.
A Lexicon for Insulting 
Disclaimer: for the most part, I suggest that you be considerate and nice to everyone. On the other hand, not everyone is considerate and nice to you or, sometimes, you just have to blow off steam.  So there are occasions in which you may be placed where hurling a verbal insult at someone would be necessary such as:
Stupid drivers

People that eat your very last sleeve of Girl Scout Thin Mint cookies.
When hurling a verbal insult at someone, there is such a fine lexicon of insulting names from which to pull:  "Poop Face," "a-hole," "bottom feeder," and a fun one from the movie, ELF, "Cotton Headed Ninny Muggins." I can't even explain what a "Cotton Headed Ninny Muggins" is but, it's a pretty funny word pairing.  You can reference an archived Reddit thread for more if you'd like.  Some people are so damned creative and some need to have their mouths soaped… organic, hypo-allergenic soap, of course!
So with the plethora of insulting names available to us, why would anyone have to use the name of a real group of people (or people IRL as the young peeps might say) to insult someone.  Why associate a group of human beings, who have real feelings and families, with your insult to someone?
I was recently in a restaurant/bar. At the bar, two guys got into an argument, leading to shouting, leading to threats of "taking things outside." At that point, the one guy called the other a "faggot."  So I'm sitting there thinking… "Really? That's all ya got Beer Muscles Bill?" All you have is some out of date, offensive slang word to back up you're tough guy stuff?  He had a smart-phone on him… he could have Googled good insult words in .097 seconds just as easily as I did when writing this article.
To be honest, I kind of was hoping that the guy he was calling a "faggot" was indeed a gay man who was the reigning kickboxing, karate, aikido, Taekwondo, Brazillian Jiu-Jitsu, MMA, self-defense instructor with a minor in alligator wrestling who would have stood up and said, "Yes, and I fight like one too and knocked the guy out into his bowl of French fries and gravy.  But…..violence doesn't really solve anything.
"You throw/fight like a girl."

"Fag"

"Lezzy"
The above are samples of insults that bring innocent groups of people into your insult and cause anguish to specific groups of humans who aren't even involved in your situation of yelling at a driver that cut you off or whomever ate your last sleeve of Girl Scout cookies.
In my day, have I fired off one of those hurtful slurs? I sure have.  We're all young and ignorant at points of our lives.  But, as adults, we learn how to do better and, these days, we understand acceptance better….. or at least we should.  And in knowing better, it is our job to correct the generations following us by explaining to them WHY those names are hurtful so that they don't repeat our mistakes.
Here's my suggestion…and I'll admit, I'm a little partial, I say… when you're ready to hurl an insult, us MY go-to word…. JAGOFF!  It works and, if you're a Pittsburgher, it's a chance to get our Pittsburgh Lexicon better known and maybe we can make another Top 10 list!  But then again, "Cotton Headed Ninny Muggins" is STILL really, really funny!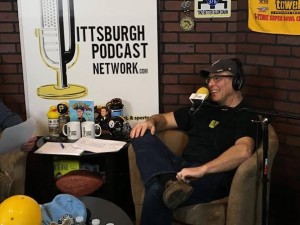 Happy April Fool's Day!  Thanks for reading my post and thanks to Sue Kerr for having me. Go enjoy the other #PghGBE blogs.  You can find me doing blog posts, videos and YaJagoff Podcast episodes on www.YaJagoff.com .
Click below to visit the other participating blogs.
Harvest + Bloom // Yes, Wear That! // jelly jars // Glam and Graffiti // To The Streets // In Pursuit // Pittsburgh & Pearls // Beezus Kiddo // Goodness Madness // Last Minute Panic // Steel City Intrigue // Crank Crank Revolution // Amanda Narcisi // Pittsburgh is Beautiful // From Cats to Cooking // Yum Yum PGH // Breelicious Bites // Parmesan Princess // Coffee & A Blonde // The Steel Trap // Wavy Alabaster // everybody loves you… // Eat with Emily // Don't Forget to Eat // Sloping in the Sky // From Farm to Turntable // Secrets in the Wall // Red Pen Mama // Feedback Soup // The AP Collection // Blog Or Die PGH // Pittsburgh Happy Hour // Friendly Fitness Foodie // Small Town Dad // Josh's World // Geeky Sweetie // Sean's Ramblings // Lunges, Long Runs and Lattes // Try it and You May! // lil Burghers // Orange Chair Blog // Ya Jagoff // Pittsburgh Lesbian Correspondents // Melissa Firman
************************************************
For 18+ years,  snowflakes, social justice warriors, and the politically correct have built this blog. Follow us on Twitter @Pghlesbian24
We need your ongoing support to maintain this archive and continue the work. Please consider becoming a patron of this blog with a recurring monthly donation or make a one-time donation.
Venmo @PghLesbian  CashApp $PghLesbian
This post and/or others may contain affiliate links. Your purchase through these links support our work. You are under no obligation to make a purchase.