Impulse Pittsburgh bills itself as a new monthly women's social event. "The Girls are takin' back the 'Burgh!"
With the holidays over, the upcoming winter months may prove to be quiet and somber. The weather may bring a storm or two, and we'll naturally want to stay within the safety of the indoors. However, that doesn't mean we can't have some fun and be within the company of the most diverse and beautiful group of women in Pittsburgh! The burgh's newest monthly girl party is coming: January 15! and will prove to lift your spirits. Hence why our first theme will be: Winter Wonderland! Whether you're trying to get out of the house, love meeting new people, or just want to celebrate with your fellow LGBTQ crowd, you won't want to miss out! Impulse: Winter WonderlandDate and Time: January 15 from 9PM-2AM
Location: Tonic Bar @ Downtown! 971 Liberty Ave.
Door Fee: $5
Drink Specials: From 9-11PM!
Parking: Plenty of parking on the street or across the street at the David L Lawrence center for only $5 the entire night!

Get ready for:

-2 Floors will be all ours, and each will be decorated with winter splendor!
-Not 1, not 2, but 3 DJs from the Operation Sappho Crew! A warm intro to mary mack, drop that, and square peg, who will be spinning the beats all night.
-Drink Specials from 9-11PM – Dollar off all drinks in the bar, $2 off all speciality drinks!
-Photographers to capture the moments (of course, they will ask first!)
-Raffle Giveaways and Contests. Proceeds will go to The Trevor Project!

There is no dress code- come as you are. No pressure- only a good time!

An RSVP is not necessary but appreciated! RSVP at our event group here: http://www.facebook.com/event.php?eid=174887479200179

"When Winter wages her war
Don't show her mercy
Instead, act on your Impulses
And Dance the night away!"
Interesting development. Pittsburgh is already home to Lez Liquor Hour which is more of Happy Hour held on a monthly basis, complete with some of the most erotic written imagery demonstrating the intense creative power of the organizer.
Both events circulate among Pittsburgh's bars which may be an interesting indicator of the future of the "lesbian bar" scene. We aren't going to have a bar specifically for lesbians, but more of a lesbian contingent drawn by events like these and staff who are gay friendly such as Cattivo and the Blue Moon, both in Lawrenceville.
The idea that there is no lesbian scene is factually inaccurate, but the lack of a lesbian space is a bit troubling. The GLCC hasn't been successful in creating a vibrant presence Downtown, but they are still new to the location so that could change. The events above do require some disposable income and a desire to be part of a certain scene. Ledcat and I are not bar people. We attend more when there's a cause we support than for the socialization. Still, we could attend whereas some women cannot because of child care, income and recovery. Monthly child-friendly potlucks, also rotating, fill some of those needs.
So this emergent moving scene is an interesting phenom and one we should appreciate for adding some flavor to the local lesbian community. It should lead us to rethink the concept of claiming a lesbian space within the mainstream community and recognize that this is about embracing our identity within that space, not necessarily assimilating.
**********************************************
This blog proudly built by snowflakes, social justice warriors, and the politically correct.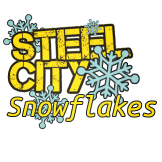 Join the Steel City Snowflakes with a one time or recurring investment in our projects.  Click the image  to see our current snowflakes.
Follow us on Twitter @Pghlesbian24
This post and/or others may contain affiliate links. Your purchase through these links support our work. You are under no obligation to make a purchase.