What a tough year for Joe Sestak and Dan Onorato. Philly and Pittsburgh Pride are on the same days. Onorato made the good call to attend Pittsburgh's event, but Sestak is in Philly.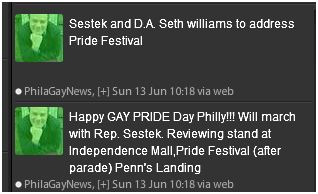 Sestak is sending a surrogate to Pgh, but I think it might speak volumes as to whom he sends. As I said earlier in the year, I truly think his failure to attend the Steel City Stonewall endorsement event cost him the endorsement. Of course, it could be the decision to endorse Specter that impelled him to stick with Philly. Who knows?
I spoke with Bill Peduto last night and he confirmed he's attending (he was out of the country last year). I think there were years when Bill was the only politician who attended. How far we've come …
************************************************
For 18+ years,  snowflakes, social justice warriors, and the politically correct have built this blog. Follow us on Twitter @Pghlesbian24
We need your ongoing support to maintain this archive and continue the work. Please consider becoming a patron of this blog with a recurring monthly donation or make a one-time donation.
Venmo @PghLesbian  CashApp $PghLesbian
This post and/or others may contain affiliate links. Your purchase through these links support our work. You are under no obligation to make a purchase.