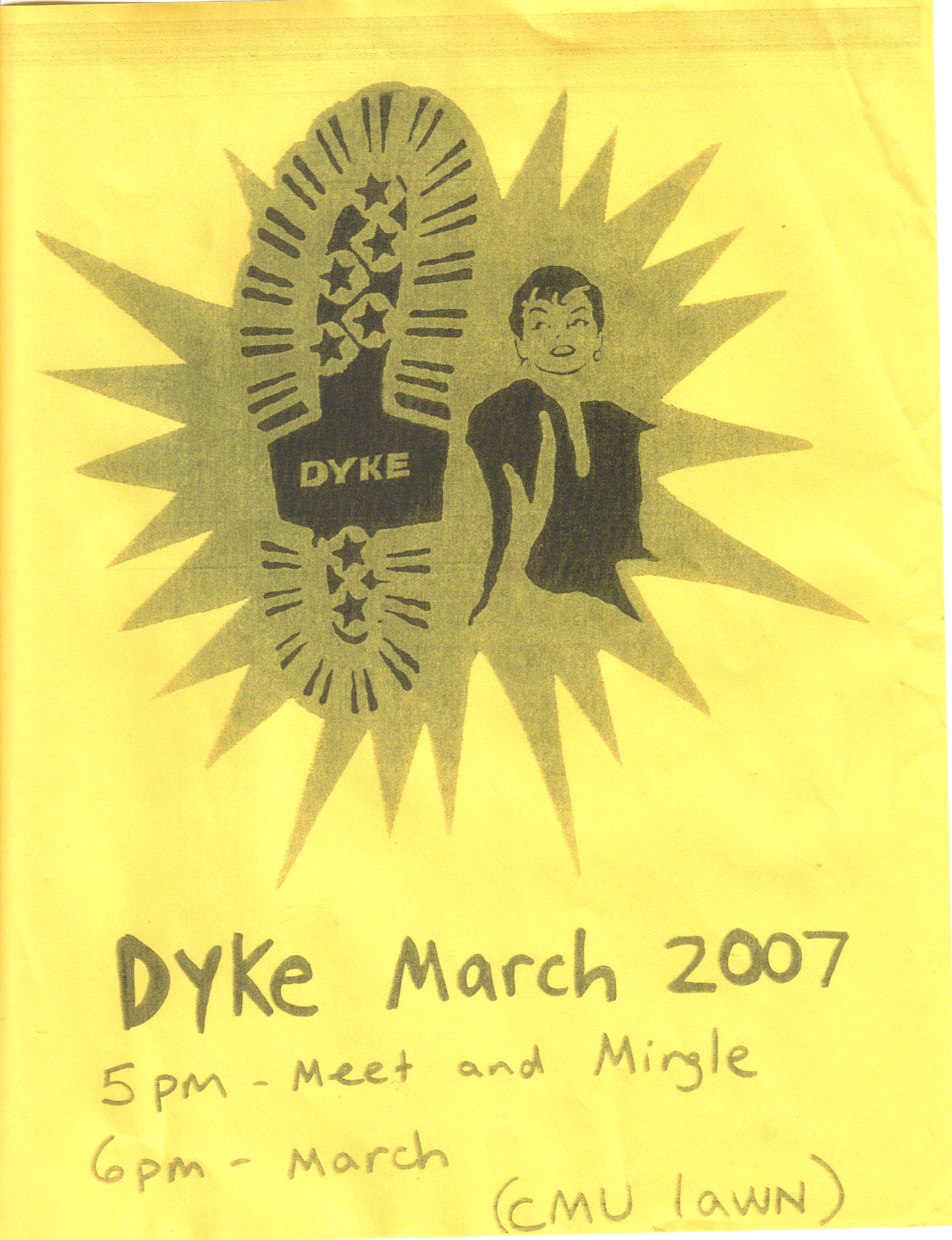 It is the most dykeable time of the year!
Pittsburgh's 2nd Annual Dyke March
Saturday, July 21, 2007
5 PM Mingling time — make a poster, make a friend
6 PM MARCH
AFTER MARCH — byob (bring your own basket) picnic location TBA
All dyke-identified women are welcome to attend. Male and female allies are asked to march separately alongside the main contingent to show your support.
This event was awesome last year. Dozens of women of all flavors turned out to march through Oakland with very little ensuing complications. Ledcat has been helping with the permit/police issues (doesn't she rock, my little Ledcat?) and we are very, very excited.
Organizer Eli thinks this event is a big step for Pittsburgh's lesbian community, an opportunity to carve out an identity separate from the white gay male driven leadership so dominant at other events. She's not a separatist, but she does think that spending time solely in the company of lesbians has its benefits. And there isn't a lot just lesbian oriented in Pgh, at least not activites that have a grounding in political action.
I love the word dyke b/c it has power and that resonates with me. I love Eli b/c she cares about political action and can coherently speak about the misogyny in the queer community.
But this isn't a bunch of scary angry women shaking their fists at "the man" and railing against penis lovers. It is about women coming together and feeling powerful and strong because of our queer identity.
You should come. Look for Ledcat 'n me. We'll be talking with the police and arguing over who has to carry the picnic basket.
************************************************
For 18+ years,  snowflakes, social justice warriors, and the politically correct have built this blog. Follow us on Twitter @Pghlesbian24
We need your ongoing support to maintain this archive and continue the work. Please consider becoming a patron of this blog with a recurring monthly donation or make a one-time donation.
Venmo @PghLesbian  CashApp $PghLesbian
This post and/or others may contain affiliate links. Your purchase through these links support our work. You are under no obligation to make a purchase.