So my active symptoms began on Tuesday, August 16, but I was exposed the previous Friday. It has been over two weeks. I feel better, for sure. But I also feel different and not better or at least not myself better if that makes sense.
Mostly, I am exhausted physically and mentally. I wake up tired, I take a long nap each day, I fall asleep tired. Sometimes, I am actually drowsy to the point that I must close my eyes as soon as possible. Like many people, I have a lingering cough. Yesterday, my throat was sore and I could barely speak above a whisper. I had very odd (even for me) GI symptoms earlier this week.
Some of this is probably due to fall allergies, for sure. But … is it? Will we ever know that for sure? Will COVID-19 become 'the bug going around' until it fades in our memories, indistinct from allergies/cold/flu?
So many friends report being infected this summer. COVID-19 is now a new wave through Gen X like a new album from The Cure. See what I did there? They also report being forced back to work by employees weary of the coronavirus costs. Mask enforcement is almost nonexistent. Is this what the end months of the 1917 Influenza Epidemic were like? Is this how an entire generation forgets a deadly worldwide experience – exhaustion? Life demands?
We will not be eligible for the next booster until late November (3 months after testing positive.) That's discouraging, but we've trusted science so far and neither of us ended up in a hospital.
Perhaps if nothing else, the social media accounts of infections, symptoms, and long term health changes will give future historians data to determine how COVID-19 changed our health. Is my arthritis flare related to COVID-19 inflammation? Who knows – I'm focused on treating the symptoms either way. In my case, that means using cat beds as knee pillows and frozen peas.
Cats are okay. The majority of my energy goes toward feeding, watering, scooping, and washing pet laundry. Laura handles the meds. I walk to my colony each day and have a little sit down visit before I walk home. There are benefits to that as the cats are coming around me more often.
On a bright note, I did have my first Pumpkin Spice Latte of the season. A Wikipedia page was created for me. I got one step closer to a major cat project. We found a new affordable couch we both like. And I'm finishing a book I began reading in May. I'm not unhappy with the things I've accomplished even with the COVID-19.
Here's hoping that continues.
**********************************************
This blog proudly built by snowflakes, social justice warriors, and the politically correct.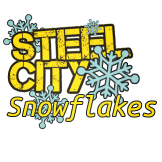 Join the Steel City Snowflakes with a one time or recurring investment in our projects.  Click the image  to see our current snowflakes.
Follow us on Twitter @Pghlesbian24
This post and/or others may contain affiliate links. Your purchase through these links support our work. You are under no obligation to make a purchase.