So today is already weird.
Ledcat had to go into her office for an all-day training. She's had to go in for bits and pieces before, but never before mimicking her before-pandemic schedule. Since March 17, she's been home and in the kitchen doing her magic.
I dropped her off at her usual spot. Traffic was light. I glanced across Grant Street to the parking lot near the City-County Building. It was mostly empty as were the parking spaces around the building. Yep, things are still surreal in that regard – every day Downtown is like Sunday.
After 145 days of near round the clock togetherness, it feels very odd to have Laura gone for nine consecutive hours.
It isn't that I'm lacking things to do (nap, feed the cats, watch GH back episodes, you know …) but just this sense that the way things used to be pre-COVID are not how they should be right now. This feels familiar, but in an unsettling way.
Things are never going back to pre-COVID times. You can't erase 145+ days anymore than you can revive 731,330 dead people or unscathe the lives of 20.8 million people sickened by this illness. There's no going back. Even if you are delusional enough to think it is a hoax (OMG, please don't be that person), you can't undo a hoax of this magnitude. (Please stop trying to convince us this is a hoax) and hit the reset button to some imagined pre-hoax point in time.
I have no idea if and when Laura will return to her office FT. I hope and want that to be far into the vaccinated future. We may drive each other bonkers trying to share this space at times, but it is absolutely better to be together most of the time than any of the alternatives. She is able to do about 90% of her job tasks from home. Here's hoping that continues.
It isn't all merry and sweet. We don't sit down and have a nice lunch chat together each day. Sometimes we are yelling from opposite ends of the house about who has to put out/bring in the dog or deal with the puking cat. I can't watch tv with impunity, my big coping mechanism for anxiety, and I refuse to allow her to install FIOS on our second floor because OMG that's too expensive for a situation we don't know has an end date. There are times I really, really want a cold beverage with crushed ice from our magical freezer and she's on a call so I have to settle for tap water from the bathroom sink to give her privacy.
But at the end of her workday, she intentionally rolls her groovy work chair (thanks, Marcia) into the corner by the cat tree and puts the kitchen chair back in its rightful spot – she's off the clock. That's not quite the same definitive finish on her day that she had in pre-covid times, but it is a ritual that gives us some boundaries – the new normal as they like to say.
Plus, the cats love that chair.
I got one load of laundry into the washer and put my weighted blanket in the tub to soak. I kept everyone alive (pet wise.) I took a nap. I had several glasses of water. I am almost caught up on GH and all caught up on Hanna – Season Two. We have a plan for dinner (leftover pizza) and tonight is our weekly personal training session with YogaNuvo via Zoom.
Onward we go …
**********************************************
This blog proudly built by snowflakes, social justice warriors, and the politically correct.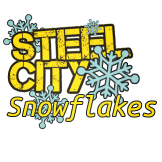 Join the Steel City Snowflakes with a one time or recurring investment in our projects.  Click the image  to see our current snowflakes.
Follow us on Twitter @Pghlesbian24
This post and/or others may contain affiliate links. Your purchase through these links support our work. You are under no obligation to make a purchase.