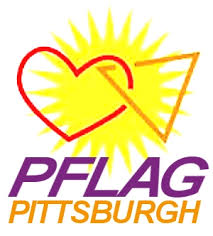 News from PFLAG – they are relocating the meetings back to their original home at Persad Center.
I'm a big fan of PFLAG. I went there soon after I came out and have been back many times, as both an attendee and a speaker. PFLAG is often on the ground in communities with no other services or programs. Right now, they are leading the charge for municipal nondiscrimination in Butler.
Read on.
During the January 2017 PFLAG Pittsburgh board meeting, it was unanimously approved for PFLAG Pittsburgh to move our monthly Sunday support group meeting location from Third Presbyterian Church to Persad Center.
Effective for our July 2017 meeting and onward- our monthly meeting location will change to Persad Center in Lawrenceville. Their address is 5301 Butler Street. Suite 100 Pittsburgh, PA 15201. We will continue to meet on the second Sunday of each month from 2:00pm-4:30pm; however, our location will have changed.
The meeting in July is on July 9th, 2017.
We are moving for several reasons. The primary reason is so that all our meetings will now be housed in one convenient location. Currently, our board meetings are held at Persad. Also, the potluck dinner of Parents of Transgender children is also held at Persad Center. The board felt that providing consistency would help us to provide better services to our membership and community.
The transition has begun. We are currently paring down our belongings and condensing our library. If you have any questions, please send us an email at info@pflagpgh.org or give us a call at 412-833-4556.
We look forward to partnering with Persad and look forward to the future with optimism, hope and a determination to provide the best services possible.
FUN FACT: Did you know that the origins of PFLAG Pittsburgh are closely tied to Persad Center? Our VERY FIRST meeting was held at one of their previous facilities and we have maintained a partnership for over twenty-five years!
---
I am really interested in the history of LGBTQ community groups in Pittsburgh so the background of PFLAG's meeting spaces is worth exploring.
PFLAG Pittsburgh Location History
Persad Center- June and July 1989 (5150 Penn Ave.)
Friend's Meeting House- August 1989 to April 1992 (4836 Ellsworth Ave.)
Began 4

th

Tuesday of the month from 6:30-8:00pm

Moved to 2

nd

Sunday from 2-4:30p in January 1991

Moved due to outgrowing space
Persad Center- May 1992 to December 1993 (5150 Penn Ave.)
Moved due to outgrowing space
Calvary Episcopal Church- January 1994 to December 1996 (315 Shady Ave)
Moved due to lack of space availability
East Liberty Presbyterian Church- December 1996- January 1997 (116 South Highland Ave)
Temporary location while looking for a new site
Third Presbyterian Church- March 1997 to May 2017 (5701 Fifth Ave)
Moved to house all PFLAG Pgh affiliated meetings in one location
Persad Center- July 2017 to Current (5301 Butler St.)
I also think it is worth sharing this 1997 article about some of the founders of the Pittsburgh chapter. For some history within history, note that PFLAG also played a role in launching the Friday Night Drop-In at the GLCC which is the longest running youth program in the region – 21 years and going strong.
************************************************
For 18+ years,  snowflakes, social justice warriors, and the politically correct have built this blog. Follow us on Twitter @Pghlesbian24
We need your ongoing support to maintain this archive and continue the work. Please consider becoming a patron of this blog with a recurring monthly donation or make a one-time donation.
Venmo @PghLesbian  CashApp $PghLesbian
This post and/or others may contain affiliate links. Your purchase through these links support our work. You are under no obligation to make a purchase.