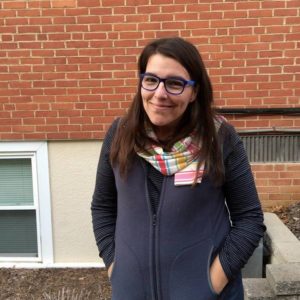 Name: Cheryl
Age:  42
County of Residence: Allegheny, Blair
Preferred Pronouns: She/Her
How do you describe your identity? I am two spirited.
Please describe your coming out experience. Where did you find support? What challenges did you face? I came out in college. My friends were supportive but it was a Catholic college and there weren't any out staff. I fell in love with my boss who was a graduate student at the college and keeping with my Catholic upbringing, I dated her in secret. By the time I came out to my family, most of them knew already. Coming out reached a whole new level when I had kids! Suddenly I found myself coming out to everyone all over again!
How would you describe yourself NOW in terms of "being out"? Out to everyone I care about. Not out to the electrician or the plumber.
Tell me about the first LGBTQ person whom you met. What impact did they have on your life? Jim was my uncle's friend. He didn't have any fingers. I asked him why. He told me someone cut them off. Later that night, my uncle told me that he was jumped one night when leaving the LaPierre, a local gay bar that incidentally burned down several times during my childhood. The guys that jumped him cut his fingers off and left him on the train tracks.
Past or present, favorite LGBTQ character or creator in television, film or literature? Please tell us why. Priscilla, queen of the desert. I wish I had the balls to be a drag queen.

How do you stay informed about LGBTQ issues? Facebook, like everyone else.
Describe your geographical community.  I love Morningside. It's a changing neighborhood as old Italian families die off and are replaced by hipsters that can't afford highland park. I like the old Italians and Catholic families in my neighborhood because they like me and my kids.
Describe your local or regional LGBTQ community. I think we are doing a lot to protect the rights of majority gays but have a long way to go with understanding the minorities in our own community. We can't say we are taking care of our community if we don't even see everyone.
Have you ever experienced discrimination based on your identity? Specifically, in a job setting, when applying for housing or while in public. Yes, a few times. I work with kids and told my supervisor at my first job in Pittsburgh that I was a lesbian. She said, don't tell anyone that. Later, in the steel city softball league, I hit a line drive right at her on the pitcher's mound!
Recently, I was talking about a kid who is gay and my co-worker said, "if I ask him if he's gay, i might give him that idea. " I told her that I wish someone would've asked me when I was his age. She told my boss that I share too much of my lifestyle at work and she should caution me about talking about that because she was getting tired of hearing about it.
Are there issues impacting your LGBTQ neighbors that aren't visible or part of the local dialogue? How marriage equality has affected those of us that were "not married" for twenty years and are now "divorced" with no protections or recognition that the relationship even existed.
What would you like to see elected officials do to improve life for LGBTQ Pennsylvanians? Address disparities in housing and health, especially those who are doubly affected by them. It's easy to take care of white middle class gays, but you really show you care when you take care of those who have the least.
Please share a lived experience, anecdote or fact about life as an LGBTQ person in your community. When my son was a toddler, he got a Mickey mouse clubhouse for Christmas. As he sat on the floor with his neighborhood buddy playing with it, Joey asked why Spencer got a dollhouse for Christmas. "Because he has two moms," we said."I wish I had two moms," Joey replied 😉

Beyond discrimination, what other barriers create challenges for your LGBTQ neighbors? Internalized homophobia. Racism, poverty, sexism, job insecurity.
What LGBTQ friendly resources are available for your neighbors? Persad, glcc, a growing number of churches, families like ours.
What is your greatest fear for the LGBTQ community in Western Pennsylvania? It feels like we are growing more divisive as a community.
What is your greatest hope for the LGBTQ community in Western Pennsylvania? That my kids will grow up feeling like Pittsburghers and not other.
What can allies do to support your LGBTQ community? Acknowledge bias
How can gay men and lesbians support the bisexual, transgender and queer members of our community? Learn when you can
What motivated you to take part in this project? I don't know.
Finally, what question should I have asked? Please also share your answer. What is the best way to contact you to ask for a date?
Thank you, Cheryl.
Read the entire AMPLIFY LGBTQ Q&A archive.
AMPLIFY LGBTQ is a series of blog posts designed to give a "signal boost" to the voices of our LGBTQ neighbors throughout Western Pennsylvania. We are using a Q&A format and will minimize editing their responses. 
Our intent is to highlight the voices of marginalized members of our community who are not always invited to the table or whose voices are not heard. These are glimpses in to the lived experiences of LGBTQ people in Western Pennsylvania as told in their own voices. If you would like to participate, please email me pghlesbian at gmail or visit the online Q&A.
You can read the other Q&A responses here.  AMPLIFY! LGBTQ is a project of Most Wanted Fine Art and Pittsburgh Lesbian Correspondents.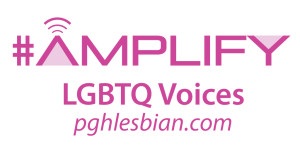 **********************************************
This blog proudly built by snowflakes, social justice warriors, and the politically correct.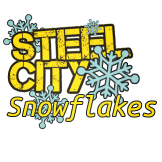 Join the Steel City Snowflakes with a one time or recurring investment in our projects.  Click the image  to see our current snowflakes.
Follow us on Twitter @Pghlesbian24
This post and/or others may contain affiliate links. Your purchase through these links support our work. You are under no obligation to make a purchase.