Mid-summer 2012, I was coordinating a project to redirect gently used tote bags to the Food Bank. We also received quite a bit of excess promotional merchandise – bags, cups, etc. This operation had no formal space other than my vehicle and occasionally my living room. We quite literally sorted and counted on the street, people's porches, and the benches outside of whatever venue donated to us.
I received a call from a locally based but international printing company – they were shedding thousands of display items. Did we want them?
I took a leap and said "yes" than began begging for the use of a garage or basement for a few weeks. I had a backup plan to use a garage in Edgewood which would have been inconvenient, but certainly better than nothing. I was really worried. The day before our deadline to pick up the donation, a neighbor told me that the garage he rented out was unexpectedly empty and we could use it for free until he rented again.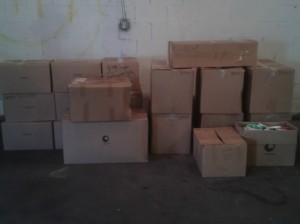 When the donation arrived, I was overwhelmed. That very same day 2 other large donations came in so the garage was holding nearly 6000 items. That grew to 8000+ as other donations flowed in to this temporary space.
It wasn't over yet – we had to sort everything b/c the Food Bank had no use for mugs or laptop cases, etc. 4 volunteers spent a muggy August Saturday doing just that. Then I learned the Food Bank sent a truck with food to a shelter just a few blocks away so they could pick up their items on the empty return trip. Whew!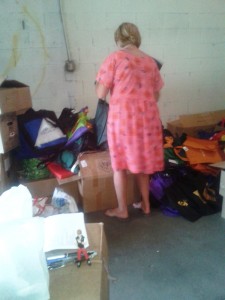 The look on the face of the driver when he realized we had almost 5000 bags for him was truly priceless.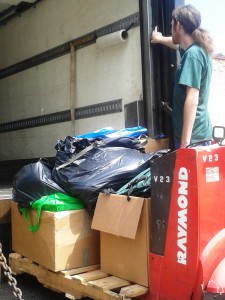 I was left with another 4000 items. I began delivering to local organizations, but every non-profit faces space constraints. And suddenly the space was rented. Oh no! I mean that was good for the generous neighbor, but uh oh … what were we going to do. I had binders, portfolios, piggy banks, ceramic mugs, travel mugs, hundreds of laptop cases that could double as briefcases, thousands of pens and more. 90% of it was brand new.
Fortunately, the shelter down the street runs the largest food pantry in Western PA so they agreed to take whatever we had and let the 1000 families take what they wanted. It took me 3 trips to load and deliver the final items. Fortunately, the shelter residents carried everything up the stairs because I was fading fast.
And then there is this – one of the men volunteering to unload items asked me if he could have a travel mug and one of the portfolio binders. I said "sure" and he told me that he had a job interview and would feel more confident if he could carry his coffee in a professional mug rather than a styrofoam cup and be able to write things down in a portfolio rather than on loose paper.
Dignity. It stopped me in my tracks.
I was so grateful to these kind men for all of their work to help other neighbors (there was far far more stuff than the shelter residents could use) and helping me because I was exhausted. I was happy enough to distribute the items, but he took a moment to remind me why it mattered and that was very gracious of him.
So I was saved by the bell a few times in that little spurt of donations. In less than 2 years, the project received more than 30,000 bags plus many thousands of other items.
Lesson learned? Storage and infrastructure matter A LOT. Most non-profits have very limited space to store items. Most non-profits could use those items if space were available. I think a valuable contribution to the region would be a massive reuse "store" that functioned as a sort of "Goodwill for human service groups" rather than a retail shop. A space that could store thousands of donated suitcases and allow the individuals group to take 5 or 6 at a time.
Pittsburgh is a very generous region. The donations for the GLCC "Winter Gear" drive were astounding. They literally poured into the space.
That's one of the key reasons we need to raise $5,000 for Cathy's Closet; I know first hand how important – even critical – it is to have the shelving and the organizing all figured out before the donations flow in to the Center. Volunteer staff scrambling around is exhausting and wastes valuable time and energy.  And our neighbors receiving donations deserve to feel dignity – to walk up to a semi-organized closet and "shop" for what they need and prefer. That requires money to renovate the space, to purchase the storage containers and so forth.
Your financial donation to Cathy's Closet will help us open sooner rather than later. Will you give today? Click the donate button please and help us!

**********************************************
This blog proudly built by snowflakes, social justice warriors, and the politically correct.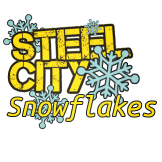 Join the Steel City Snowflakes with a one time or recurring investment in our projects.  Click the image  to see our current snowflakes.
Follow us on Twitter @Pghlesbian24
This post and/or others may contain affiliate links. Your purchase through these links support our work. You are under no obligation to make a purchase.