Because I cover so many human service and social service agency topics, I receive a lot of "hits" from people searching for supports. I'm a little surprised how eary they are starting for the winter/holiday season and a lot sad about that.
If you have email, it is a really good idea to get on the email distribution list of your State Senator and State Representative. They usually send out information about state programs on a regular basis.
So here's what I know right now. I warn you that nothing is new (with one small exception) and urge you to call soon if you need support. And don't forget you can call 211 for information as well.
LIHEAP opens on November 4 You can submit applications online through the COMPASS website, or at the LIHEAP office downtown (332 5th Ave., 2nd Floor, Pittsburgh, PA 15222)
SNAP which you may know as food stamps can be applied for also through COMPASS or by contacting Just Harvest which also helps with TANF applications and other programs. I highly recommend working with Just Harvest as they are dedicated to your dignity.
Mortgage Foreclosure Assistance.
Holiday Gifts
(This is the heartbreaker for me, but there's a relatively new program that is helping)
Play It Forward  collects gently used toys, books and stuffed animals for children. They have a first come, first serve one day distribution. One exceptional thing is that they offer gifts for youth up to ages 16 (sporting equipment, books, videos, etc.)  You can also click the link to find out how to donate your own gently used items.
Play it Forward Pittsburgh
Saturday December 14, 2013
9 a.m. – 3 p.m.
Propel Braddock Hills High School
1500 Yost Blvd Suite 2, Braddock Hills, PA 15221
Toys for Tots public distribution days will be on December 13 and 14 according to their website. You do have to complete a form and bring documentation. The distribution spot has not yet been identified. I did notice that they listed ages up to 15 which is nice.
I will update with other information as it becomes available.
**********************************************
This blog proudly built by snowflakes, social justice warriors, and the politically correct.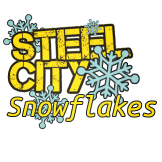 Join the Steel City Snowflakes with a one time or recurring investment in our projects.  Click the image  to see our current snowflakes.
Follow us on Twitter @Pghlesbian24
This post and/or others may contain affiliate links. Your purchase through these links support our work. You are under no obligation to make a purchase.