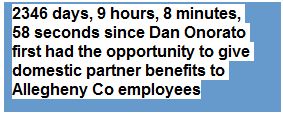 While I am heartened to learn about the recommendations of the Human Relations Commission to extend domestic partner benefits to Allegheny County employees, I must admit wondering what the next hurdle will be?
I don't enjoy being cynical on this topic. My heart feels for the employees left in limbo because the process has taken six + years so perhaps I'm too quick to think the County Personnel Director could have lunch with the City Personnel Director and figure the basics out. I know unions, rules, negotiatons, blah, blah, blah. Still, as the recommendations point out … both the City and the Public Schools overcame those obstacles so yeah, let's stop with the excuses.
I know we have to elect Dan Onorato to save the Commonwealth from uber-crazy and hope the resulting shift right won't roll the liberals into New Jersey. Still, we don't have to quietly into the good night. We have an equally important race to focus on federally and there are only so many LGBTQ campaign donations to go around.
There's a clear benefit to extending these benefits over the summer — a big progressive bump at Labor Day. What could be the reason for more delays? Would it really impact the moderate voter? Would they care? Would someone in the T see it as a homosexual lobby issue?
I say give the campaign a call and ask when the health care for same sex families employed by the County will be resolved. That's the day you put on your bumper sticker and write your check. It really doesn't have to be complicated.
(412) 281-5678
info@voteonorato.com
Plus, I'd really like to start counting how long it will take Governor Onorato to help pass HB 300. 🙂
************************************************
For 18+ years,  snowflakes, social justice warriors, and the politically correct have built this blog. Follow us on Twitter @Pghlesbian24
We need your ongoing support to maintain this archive and continue the work. Please consider becoming a patron of this blog with a recurring monthly donation or make a one-time donation.
Venmo @PghLesbian  CashApp $PghLesbian
This post and/or others may contain affiliate links. Your purchase through these links support our work. You are under no obligation to make a purchase.