Now is the time, according to Thomas C. Waters, for you to have a significant impact on the attempt to move the "Marriage Protection" amendment out of the Senate Judiciary Committee. Check out his blog for details.
Two quick side notes of interest.
Senator Barry Stout's seat is up for grabs as he retires. Stout voted to move the marriage amendment out of committee in 2008. One strong contender for the seat is House Rep Tim Solobay who was one of a very few Western PA Democrats to vote AGAINST a similar amendment in 2006 (the House did not vote on this issue in 2008). I have a list of his district so now is also a chance to identify and elect an ally to reclaim a Senate seat from those who believe we should add discrimination to the PA Constitution.
One of cosponsors of this bill is a Western PA Democrat, Senator Kasunic from the Fayette/Westmoreland/Washington county area. Now is a good time to follow the link to see if you have friends or family in that neck of the woods. Now is a good time to make those real time phone calls (as opposed to email) so he knows what his constituents think about him being front and center in promoting discrimination.
**********************************************
This blog proudly built by snowflakes, social justice warriors, and the politically correct.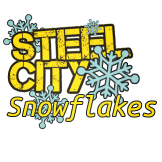 Join the Steel City Snowflakes with a one time or recurring investment in our projects.  Click the image  to see our current snowflakes.
Follow us on Twitter @Pghlesbian24
This post and/or others may contain affiliate links. Your purchase through these links support our work. You are under no obligation to make a purchase.