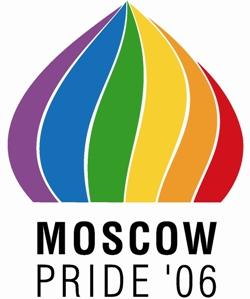 As promised, gay activists converged on Moscow to hold the capitol's first gay pride rally in spite of the event being denied a permit and denounced by religious and political leaders throughout Russia.
In preparation for the rally, over 1000 police in riot gear met the activists in Red Square along with hundreds of anti-gay protestors. In response, police arrested over 120 of the gay activists as they attempted to lay a wreath at the Tomb of the Unknown Soldier.
What the police didn't do is protect the peaceful activitsts from the hate-fueled violence of the counterprotestors.
From Pink News
Volker Beck, a Green member of the German parliament was attacked by 20 religious protesters and punched in the face whilst he was giving a television interview.

"There was no aggression from our side, we were simply there," Herr Beck told the DPA press agency. "It is unacceptable that the police offer no protection to gays on the streets."

Around 100 religious and fascist extremists dressed in black kicked and punched gay activists. "Moscow is not Sodom!" shouted a group of Russian women clutching religious icons.

"We are Russians. We are Orthodox. These soldiers died so we could live like Russians, not so these people could come here and tell us what to do," one Christian protester told Reuters.
Yet another fine example of the damage of the hate-rhetoric flowly so freely from pulpits around the world. I wonder how long it will be until Anglican Archbishop Peter Akinola teams up with the skinheads to beat down the homos?
---
UPDATE: While this story has not caught the attention of the mainstream media (surprise!), you can follow it through the Washington Blade vis a vis live coverage from Scott Long, Director of the Lesbian, Gay, Bisexual and Transgender Rights program for Human Rights Watch
---
************************************************
For 18+ years,  snowflakes, social justice warriors, and the politically correct have built this blog. Follow us on Twitter @Pghlesbian24
We need your ongoing support to maintain this archive and continue the work. Please consider becoming a patron of this blog with a recurring monthly donation or make a one-time donation.
Venmo @PghLesbian  CashApp $PghLesbian
This post and/or others may contain affiliate links. Your purchase through these links support our work. You are under no obligation to make a purchase.