In my family, I am a freak. Not for the obvious reason. No, the fact that my girlfriend loves football almost compensates for the whole homo thing. Because I don't really watch it. I tune in once in awhile. I know the tune to "Here we go" and I have vivid memories of lunchroom pep rallies during the Superbowl era of the Iron Curtain. (see I know that reference!) But I barely know the name of the quarterback.
In fact, one evening we were dining at PF Changs and in comes Ben with some other large hulking type guys. They sat in a corner and the buzz around the room clued me into the fact that it was someone important. My GF was scandalized that I didn't recognize Big Ben. I was more fascinated by my Kung Pao Chicken frankly. But once I saw Mario Lemieux at Tambellini's. That was kind of cool.
Anyway … here we go ….
But I did something altruistic today and asked my boss to let us have a tailgate party on Feb 3. Not only did he agree, but he is willing to give a prize to the staff member with the most Steeler spirit.
Now I guess I have to go buy a Steeler's shirt or hat or something.
Sue
**********************************************
This blog proudly built by snowflakes, social justice warriors, and the politically correct.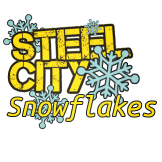 Join the Steel City Snowflakes with a one time or recurring investment in our projects.  Click the image  to see our current snowflakes.
Follow us on Twitter @Pghlesbian24
This post and/or others may contain affiliate links. Your purchase through these links support our work. You are under no obligation to make a purchase.