Hello, hello, hello.
Ledcat and I are heading out the door soon for a week of vacation fun at Rehoboth Beach. Our friend invited us to join her family at their beach house which is super generous of them. We are looking forward to some R&R and a few little adventures as well.
Our beloved friend and petsitter Raylene is coming to housesit and guard the kitties for us. We've been friends with her for about three years I think and just recently discovered that she is my 9th cousin. So you'll be hearing more about that later in the summer because how cool!
I'm sure I'll blog while away and post to social media as well, but perhaps more lightly than usual. There will be no AMPLIFY posts next week, but we'll pick up again in July when we feature the wonderful regional folks associated with the FIERCE! International Queer Burlesque Festival
Also, don't forget to save your stuff for the July 8 AMPLIFY Collection Event in Lawrenceville.
**********************************************
This blog proudly built by snowflakes, social justice warriors, and the politically correct.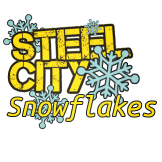 Join the Steel City Snowflakes with a one time or recurring investment in our projects.  Click the image  to see our current snowflakes.
Follow us on Twitter @Pghlesbian24
This post and/or others may contain affiliate links. Your purchase through these links support our work. You are under no obligation to make a purchase.