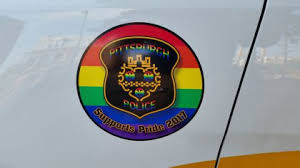 All the hullabaloo this week has been over these stupid decals.
Of COURSE it is homophobic to get your knickers in a twist about an LGBTQ decal. What's more, it is also homophobic for the FOP to use this as issue to bash the powers that be. Homophobia is definitely at play.
Every place I've ever worked where I had access to a corporate car, I had to give it a once over. Check the mileage, check the gas level, do a quick visual to report problems. If someone backed into the car while it was parked, I needed to note that lickety split so I didn't get left holding the bag. So there is NO WAY the decal reporting officer didn't notice this before now. Well, I guess if there is a way, it means the entire FOP membership is ignoring the rules about visual inspections which is a much bigger concern given that those are taxpayer funded cars.
The FOP just won a major victory in court over lifting the residency requirements. This is an immature follow-up move that shows what corruption does to small minds. Take your win, move to Bethel Park and stop being jagoffs.
Guess who hasn't been asked about this? Queer and trans people of color, specifically black queer and trans people. Black lives matter, including queer and trans black lives. How is this not on the minds of the local media covering this story?
Pittsburgh Pride is not a cause. It is an event. Supporting the LGBT community works for me, like supporting autism awareness.
Support us by having SOGI training for all officers sooner rather than later. Hire more of us. Start a LGBTQ officers affinity group. Follow best practices.
Finally … and this is the most important issue … this is a distraction. How lovely that the Delta Foundation gets to be indignant and on the attack over car decals instead of indignantly defending their partnership with frackers EQT?  They are the victims in #stickygate!!!!! Pay no mind to that pesky other march or that art crawl or that weekend of events at the August Wilson Center. Let's focus on stickers. Smoke and mirrors indeed.
Support local queer women's blogging.Donate today.
Back in 2015, protestors talked about #IckyGate referring to Iggy Azalea being booked for Pride, including a discussion on how she eventually became a distraction from the larger issues.
Maybe this should be #StickyGate?
This post has been updated to reflect that the homophobic attitudes around car decals are more related to jagoffs than assholes. Of course, that's up for debate.
************************************************
For 18+ years,  snowflakes, social justice warriors, and the politically correct have built this blog. Follow us on Twitter @Pghlesbian24
We need your ongoing support to maintain this archive and continue the work. Please consider becoming a patron of this blog with a recurring monthly donation or make a one-time donation.
Venmo @PghLesbian  CashApp $PghLesbian
This post and/or others may contain affiliate links. Your purchase through these links support our work. You are under no obligation to make a purchase.