Last Saturday was hot and we weren't feeling excited about any of the local goings-on. So, after a dip in the Riverview Park pool, we opted to take a little road trip and find dinner somewhere new.
We decided to head up to Beaver, Pennsylvania knowing that they had multiple dinner options along the scenic main street and because we wanted to work in a trip to Grandpa Joe's Candy to get some craft root beer.
The trip was fine except for that last bit of construction along Route 65. Those were some tight lanes so I can't suggest heading that way again until construction is over. But it took us just about 30 minutes and as the passenger, I enjoyed looking at the roadside scenery as urban fades in and out of suburban and rural Pennsylvania. There were plenty of spacious parking spots along the main drag, so we parked near Grandpa Joe's and headed in there first.
For dinner, we reviewed Trip Advisor suggestions and eventually decided to try The Heirloom Restaurant. It had solid ratings and an interesting menu. The website was easy to navigate on my phone which was a bonus. The Heirloom is located at the end of the block, near the scenic park and Courthouse. There were plenty of outdoor tables available which gave us lots of entertainment as people walked their dogs, bicyclists passed by and so forth.
After a swim, we were both hungry so I ordered the soft pretzel sticks to tide us over until our entrees. We also both ordered a side dinner salad of fresh spring greens, candied walnuts, cranberries and a vinaigrette. It was served in a souffle cup and was both tasty and well-received after a few bites of pretzels.
Laura opted for half a rack of ribs which came with grilled summer vegetables and a yukon gold mashed potato. The ribs were moist and tender, but the flavor was a little lackluster. It was a huge portion that we took home and shared for our Sunday night supper – so a good deal financially, but probably not something she would order again.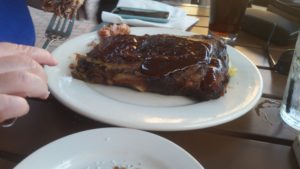 I decided to try the "new craze" of toast and ordered two small plates – bacon crostini which was bacon on bread with cucumber slices and not very interesting. Tasty, but it felt contrived as a small plate. The toast though was incredible – it is called the Wild Mushroom Plate and it includes locally foraged mushrooms, arugula and an over easy egg. It was sort of a deconstructed mushroom omelet. Very tasty and I would never be willing to share.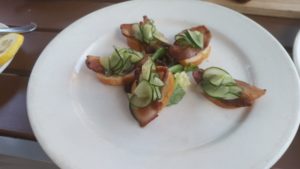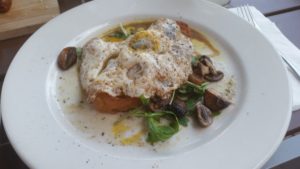 For dessert, I tried the bread pudding of the week – infused with peach cobbler. It was so incredibly moist and tasty. I could only eat a few bites and took the rest home. One of the best things I've ever had. Laura tried one small key lime cheesecake torte which she pronounced good, but lacking the traditional bite of a key lime dessert.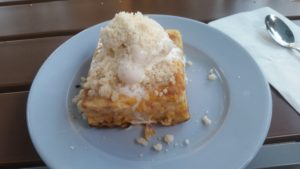 The service was very good. I liked that the hostess and a woman who was either a manager or the owner both pitched in to clear tables and help customers. They did a nice job of keeping us in good supply of water and napkins without hovering too much.
It was a lovely spot to have dinner and we were both pretty relaxed except for one small disturbance – the malcontents at the next table. When they pulled up in a Mercedes and sent their drinks back twice for taste issues, I was rolling my eyes. Their dismissive attitude to the busboy irritated me (he's 17 and makes beautiful bracelets, sweet kid, fwiw) but that happens. But there was a vibe. Lots of sidelong glances at us. Whispers. Laura assumes they were trying to determine her gender. We both felt the negative energy and were reminded that we were in Beaver County where there are no protections for us – we could be asked to leave that restaurant for being lesbians. Or for looking like women who are lesbians.
All of the loveliness is a genteel sort of acceptance of queers who don't, well identify as queer. Two middle-aged white ladies with the means to pay for a locally sourced farm to table restaurant are more than welcome – we think. We saw nothing to actually welcome us – no rainbows, no signage, no safe space stickers. No political signage, just the quiet pseudo-rustic setting that suggests disruptive behavior would not be tolerated. And we go into those spaces fully conscious of our privilege as white middle class women that typically trumps the fact that Laura is wearing men's clothing. They'll take our money, but they don't necessarily want to make us feel welcome or safe.
We walked back to the car and I saw a group of folks looking closely at the artiness of it. I said hello and explained that it was a cat themed art car. One of the men wanted to take a photo but didn't have his camera and his friends were not eager to lend him their phones, they wanted to leave. He said "I like the pink triangles" and I froze a little bit, wondering what would come next. I said "You should google the hashtag when you get your phone to learn more about our project since your friends want to be on their way." Then I jumped in the car and off we drove.
In Pittsburgh, I would have been more open about the LGBTQ concept. In Beaver while surrounded by a group of white men that I did not know, nope.
This is why we need statewide nondiscrimination protections – to lift that sense of genteel tolerance and give it some backbone. But the onus is also on businesses like The Heirloom and others along Beaver's main street to make it clear that we and our monies are welcome there. If they want us.
I enjoyed our dinner at The Heirloom, but I'm conscious that they made a choice to locate in Beaver, genteel tolerance and all. Maybe they are LGBTQ friendly and don't know how to demonstrate it. Or maybe they aren't.
The Heirloom Restaurant ~ 690 Third Street ~ Beaver, Pennsylvania
**********************************************
This blog proudly built by snowflakes, social justice warriors, and the politically correct.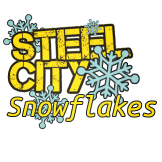 Join the Steel City Snowflakes with a one time or recurring investment in our projects.  Click the image  to see our current snowflakes.
Follow us on Twitter @Pghlesbian24
This post and/or others may contain affiliate links. Your purchase through these links support our work. You are under no obligation to make a purchase.