The Prompt: Name five things inside your refrigerator right now and how you feel about them.
I selected the first items I noticed when I opened the fridge.
Hummus – I <3 hummus. I'd say we keep it in stock, but that's not accurate – we eat it as fast as we bring it into the house. Fresh pita, stale pita, baby carrots, Triscuit – I'm not picky. It is one of my favorite items for lunch. I was introduced to hummus in the 90's by some friends. It fell off my radar until the 2000's when I started attending lesbian potlucks at the GLCC. Amusingly, that's not a joke. LOL.
Half and Half – a definite indulgence/vice. I used to drink coffee with sugar and 2% milk. Now, just half and half. If the only option is diluted milk, I'll drink it black. I've been known to drive to the convenience store in pajamas and slippers to buy creamer. I just buy plain old Giant Eagle brand. And it makes me super happy. (To be fair, I actually drink and use skim milk, just not in coffee.)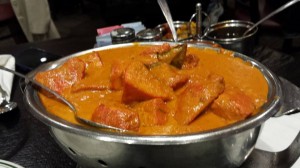 Leftovers – we are pretty good about ordering meals that generate at least one additional lunch. So right now, there is a container of chicken tikka masala that will actually provide two lunches. We both try very hard to eat leftovers for lunch or to make sandwiches so we can save our 'going out' funds for times that we can enjoy, not just find something to eat on the run. We also cook with leftovers in mind, but those are divided between lunches and other dinners.
Orange Juice – Ledcat is a daily oj drinker – 6 ounces with breakfast every single day. If we have breakfast in a restaurant, she orders it. I actually really like orange juice but I feel guilty drinking something that she really wants. This is one of the "brand name only" things in our house – we both really only like Minute Maid plain regular juice. On those furtive, pajama clad trips to the convenience store, I've purchased Turner's oj,  but its just not the same.
Ginger Ale – just last night, I joked to Ledcat that we are definitely little middle aged ladies with our nighttime ginger ale drinking. Pretty much any day/time you'll find ginger ale, gatorade, and the above mentioned milk and oj in our home, no other drinks but coffee and tea. Sometimes we'll buy iced tea for Ledcat, but more so in the summer. I stopped drinking pop about 4 years ago and ever since, I don't really like any of it except Sprite or Ginger Ale. We started buying Ginger Ale when we both were diagnosed with acid reflux and now its just a staple.  I'm fine drinking water most of the time and Gatorade when I want some flavor – my meds make me easily dehydrated so I have something in a glass most of the time. Ginger Ale is tasty enough, but its more that I want it to prevent a stomach ache. So my feelings are either "Thank God we have some" or "OMG, I have to drink vinegar again" – that's another blog post.
Hey, this was a sort of fun prompt. But it also makes me mindful of how fortunate I am to have more then five items in my fridge. This week, Laura (Ledcat) and I invite you to join in supporting the KDKA Turkey Fund to help fight hunger over the holidays. PNC Bank is matching donations of $50 or more.
**********************************************
This blog proudly built by snowflakes, social justice warriors, and the politically correct.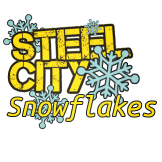 Join the Steel City Snowflakes with a one time or recurring investment in our projects.  Click the image  to see our current snowflakes.
Follow us on Twitter @Pghlesbian24
This post and/or others may contain affiliate links. Your purchase through these links support our work. You are under no obligation to make a purchase.