Under the actual category of "You Go Girl" comes this great photo from Russian of two Russian women runners, Kseniya Ryzhova and Tatyana Firova, kissing as they were awarded their gold medals at the Track and Field World Championships on Saturday at Luzhniki Stadium in Moscow.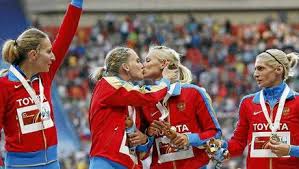 According to The New Civil Rights Movement, a same-sex kiss is a common expression of platonic affection in Russia – but this seems to be interpreted as open defiance to the Russian "'homosexual propaganda" law.
It has been interesting to note athletes throughout Europe and Asia respond in recent days. The truth is we don't know what to expect in Sochi – there will be atheletes with varying degrees of vulnerability based on their wealth, fame and the power of their home nation. Pittsburgh Penguin Brooks Orpik has already violated the law by contributing to the "You Can Play" project and risks imprisonment and fine if he participates on Team USA and travels to Sochi. I hope the bravery of these two women who could easily end up like the members of Pussy Riot – in prison work camps – inspires other acts of resistance and defiance.
**********************************************
This blog proudly built by snowflakes, social justice warriors, and the politically correct.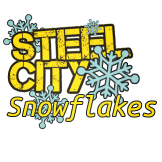 Join the Steel City Snowflakes with a one time or recurring investment in our projects.  Click the image  to see our current snowflakes.
Follow us on Twitter @Pghlesbian24
This post and/or others may contain affiliate links. Your purchase through these links support our work. You are under no obligation to make a purchase.