The Pittsburgh Post-Gazette has come out in support of passage of the federal Employment Non-Discrimination Act.

Although federal law bans employment discrimination based on race, religion, ethnicity, age and disability, it does not prohibit bias due to sexual orientation or gender identity. Some states have laws that provide such protection, but Pennsylvania is among 29 states where employees who are gay or transgendered are not shielded.

The Employment Non-Discrimination Act is a federal bill that would protect such employees from workplace harassment or firing. Religious employers, such as houses of worship and parochial schools, would be exempt.
Senator Casey cosponsors the legislation.
68 percent of small business owners in Pennsylvania believe federal law should prohibit employment discrimination against gay and transgender people. The vast majority of entrepreneurs (68 percent) also support a state law prohibiting discrimination — such as SB/HB300, the Pennsylvania Non-discrimination Act, which was introduced in the General Assembly in May. (Greenberg Quinlan Rosner Research)
72% of Pennsylvanians support non-discrimination protections for employment, housing and public accommodation. (Blogh)
Currently, 31 municipalities in Pennsylvania – including the City of Pittsburgh and Allegheny County – prohibit discrimination in the workplace based on sexual orientation and gender identity. Estimates suggest that up to 75% of Pennsylvania residents live or work in communities where they are not protected.
In short, most Pennsylvania residents can be fired for being gay, being perceived as gay or for not conforming to gender expectations at work.
On the federal level, ENDA was voted out of committee in the Senate but does not have sufficient support in the House of Representatives.
**********************************************
This blog proudly built by snowflakes, social justice warriors, and the politically correct.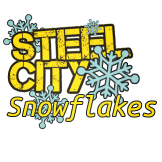 Join the Steel City Snowflakes with a one time or recurring investment in our projects.  Click the image  to see our current snowflakes.
Follow us on Twitter @Pghlesbian24
This post and/or others may contain affiliate links. Your purchase through these links support our work. You are under no obligation to make a purchase.