Here's a little Pittsburgh angle on the Boy Scout story. Tribune Review editorial cartoonist Randy Bish was a finalist in the Golden Quill awards for his work on the Boy Scouts anti-gay stance. Here are two fine examples of his work.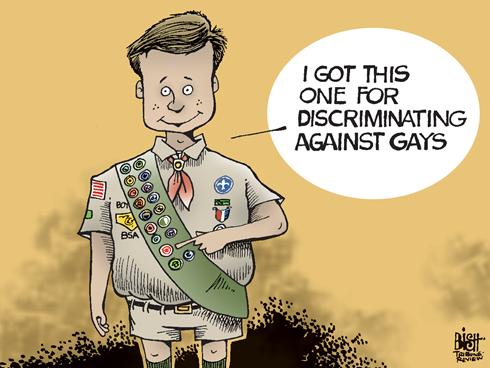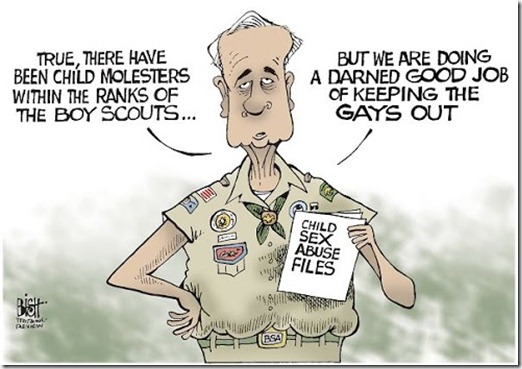 I really like the first cartoon – it captures the truth that the Boy Scouts are teaching their young men to discriminate. And that's a very damaging "life skill" lesson. To me, it gets to the heart of the matter – discriminating against gay scouts or LGBTQ parents and families – it all reinforces the concept of earning a badge for discrimination.
The Scouts are set to vote this week on a partial lifting of the ban, for scouts themselves while still prohibiting adults from participating. This splicing/parsing approach is a painful slap to the LGBTQ adults who have volunteered their time and energy to the organization – I can't imagine how painful it must be to suggest that once you are an adult, you are not fit to be around these kids. It is also a confusing message for 15 and 16 year olds and 8 year olds, too.
Our hope is that somehow, someone will help the Boy Scouts realize that this policy change is not an acceptable "step in the right direction."
**********************************************
This blog proudly built by snowflakes, social justice warriors, and the politically correct.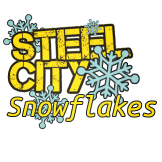 Join the Steel City Snowflakes with a one time or recurring investment in our projects.  Click the image  to see our current snowflakes.
Follow us on Twitter @Pghlesbian24
This post and/or others may contain affiliate links. Your purchase through these links support our work. You are under no obligation to make a purchase.