Friday, January 11, 2013
How do you find the energy to write when you're not in the mood?
Well, typically, I don't. Unless circumstances dictate otherwise – a topic or story that has to be covered. Sometimes, I approach those posts like they are official work assigments and go through the motions. Sometimes, I set a very low threshold for success – post a photo! Put up a few links! Share a quote.
And sometimes – I stop to think about why I am not in the mood. Is it the story? Is it the stuff happening in life? Do I really have to blog? Who reads it? What is my obligation to them?
<Imagine thinking all of this in like 10 seconds …>
Then I decide to blog or not.
I try hard not to let guilt motivate me. I try not to find energy in competition with other bloggers. I try not to blog in anger. When blogging sucks energy from me instead of feeding my energy … I need to rethink things.
But this can help …warning happy ending, but kleenex inducing …
**********************************************
This blog proudly built by snowflakes, social justice warriors, and the politically correct.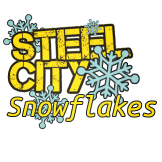 Join the Steel City Snowflakes with a one time or recurring investment in our projects.  Click the image  to see our current snowflakes.
Follow us on Twitter @Pghlesbian24
This post and/or others may contain affiliate links. Your purchase through these links support our work. You are under no obligation to make a purchase.