Friday marked my 9.5 year anniversary with Ledcat, 7.5 of which we have lived together. As I type, we are watching the Inauguration from our warm living room surrounded by pet beds, Christmas lights to be untangled and … tote bags (of course.)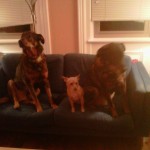 It is fun reading the tweets and Facebook status updates from folks who are on the scene. From the sofa. In my jammies and drinking coffee.
Would I have attended? Not on a bet. I lived in DC for my college years so I had plenty of times standing on the Mall for history. I was at the top of the Washington Monument during the first anti-war protest of the Gulf War. I was in the crowd to celebrate the end of the war. I fought for a space on the Metro after the 4th of July festivities. I was there for Earth Day 1990. I was in the not so VIP section at the White House to see the arrival of Mikhail Gorbachev (and Betty White – true story!) And those are very good memories.
But 20 years have passed. I don't really like crowds and I don't like missing the action. Sitting on the sofa, I can let CBS handle the camera angles and simply enjoy the moment.
Everyone has a story about witnessing history – even if they were simply along for the ride (aka "kids") — including me. It was something that happened at South Hills Village when I was a kid, but I don't even remember the story. Ha. I sort of feel robbed.
What history do you remember witnessing?
**********************************************
This blog proudly built by snowflakes, social justice warriors, and the politically correct.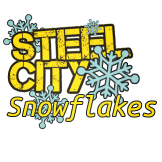 Join the Steel City Snowflakes with a one time or recurring investment in our projects.  Click the image  to see our current snowflakes.
Follow us on Twitter @Pghlesbian24
This post and/or others may contain affiliate links. Your purchase through these links support our work. You are under no obligation to make a purchase.