Over the past six months, I have had the pleasure of working with some fine social media experts like Christopher Whitlatch with The Pittsburgh Foundation and Melissa Budd Carey who does nonprofit consulting work on social media. They and many others have opened my eyes to new strategies, tools and opportunities.
There are three basic challenges for me personally
First, there's a lot to learn. I could spend 8 hours each day keeping up with blogs about using social media, exploring the newest tools and staking out my place. I don't have that luxury so I appreciate being able to peruse the most important information from bloggers like Beth Kanter.
Second, balancing content creation and curation with dissemination is also a major time suck. I am trying to average one post a day, particularly on my poor little neglected pghlesbian blog. Add in my slackitude in contributing to the national blogs via diaries and I'm woefully behind. I found a great little tool called Scoop.It that let's me curate up to 5 topics per account. So for PghLesbian, I search for articles pertaining to the Pittsburgh LGBTQ community as well as a more general LGBTQ news search.  For the tote bag project, I curate information pertaining to PittsburghGreen and PittsburghHunger as well as items about the project itself.  With the latter, I can include great widgets in the sidebar that allows blog readers to see a dynamic slide of the most recent "scoop" and click through for more. Unfortunately, my mobile friendly layout on this site doesn't allow for that feature.
Finally, there's the intersection of the two. I spend my day in a constant state of logging in and out of Google accounts to monitor email, Google+ and so forth. With Tweetdeck, I don't have that same problem. The same is true with Facebook – although I do occasionally get clicky while I'm chatting with someone and log over to administrator mode leaving them wondering where I went.
I just switched to an Android phone (Stratosphere if you are wondering) so the switch to Google has been good. It provides a great platform for our organizational planning needs and it is pretty easy to use.
A challenge is chasing and disseminating content. If I have a great story from Twitter, I can retweet, Scoop.It and post on Facebook with relative ease. The Facebook sharing tool makes it easy to place on both my personal and organization page if appropriate.  Google+ isn't so easy. I have to do more cutting and pasting. Beth Kanter and another individual shared a Google+ circle of over 500 nonprofit contacts. That's invaluable, but I cannot get it onto the organization page with ease. I'd have to add each group one at a time. However, on my personal page … well, the benefits of Google+ are apparent, because I can target them with project specific information and not my personal stuff.
Most of my network is because of my blogging. Someone is usually angry/annoyed/ignoring me, but leveraging those relationships to connect them with my organization work is challenging.  It is slow work getting people to "like" your Facebook page — I have over 2200 "friends" and only 110 of them like my page, even though I know there's a ton of support among my personal network.  But increasing our "likes" helps us reach beyond my networks. But the cajole factor only works to a limited degree.  So I have to bring some of the organizational work back to my own personal network.
It is a difficult line to tread. I can't undo 5 years of opinionated blogging nor the impressions I've made (nor do I want to) and I firmly believe there is a need for this voice.
There's also the challenge of constantly getting both of my brands out there.  Not a problem with PghLesbian because I can use my FB account and Twitter account with relative easy (even Google+).  But our organization page on Facebook is linked to the personal pages of the Admins so I have to go through my personal life to make that connection.  Klout has done a good job of addressing this by filtering out pages from personal timelines. Still, it is tedious.
In sum, the tools can be useful for crossposting, but there are some constraints and it takes a lot of work to juggle two very different branded identities. I have to ask myself a lot of hard questions.  But having the opportunity to try new things with my personal brand does afford me the luxury to screw up and hurt no one but myself.  And it can help, too. My rankings for PghLesbian are pretty darn high because I'm the only lesbian blogger in this region and perhaps the state. So when appropriate I can boost the other project with a link or a post.  Thankfully, the diverse nature of the project affords me that opportunity every once in awhile.
I'm still searching for a good curator on LGBTQ issues.
**********************************************
This blog proudly built by snowflakes, social justice warriors, and the politically correct.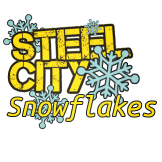 Join the Steel City Snowflakes with a one time or recurring investment in our projects.  Click the image  to see our current snowflakes.
Follow us on Twitter @Pghlesbian24
This post and/or others may contain affiliate links. Your purchase through these links support our work. You are under no obligation to make a purchase.