This morning, Ledcat and I toddled down to Millvale to try out their incarnation of Pamela's Diner. I expected to be thrilled and amazed by yummy strawberry pancakes, but turns out it took a chair to slay me.
Michelle Obama's chair.
Well, she doesn't *own* the chair. She sat in it. When she stopped by Pamela's during the G-20 (I'm ducking so don't hurl anything at the computer).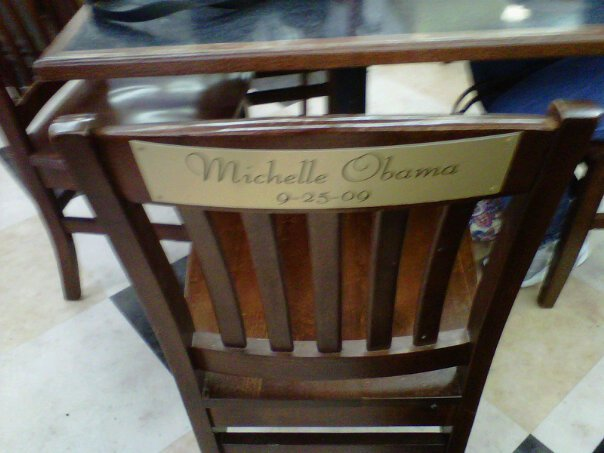 We were both a little giddy that we were seated at Michelle Obama's table and got in each other's way vying to get the perfect Facebook photo op. Our server patiently waited for us and confirmed that pretty much everyone does the same thing.
Then I was like "hold up, Sue." Well, I didn't actually say that so much as "May I have coffee and ice water, please?" as I settled into the chair NEXT to Michelle Obama's chair. But it was swirling around in the pre-caffeinated brain of mine somewhere. (Word: Ledcat beat me with the photo-to-Facebook thing).
It dawned on me that I was pretty giddy about a chair even as I feel rather despondent about the Administration. So I'm making this chair the piece de resistance in my November 2, 2010 attitude — something sturdy upon which to cast my Democratic votes … perhaps, the sturdiest thing the Democrats have offered this little lesbian in the past two years?
************************************************
For 18+ years,  snowflakes, social justice warriors, and the politically correct have built this blog. Follow us on Twitter @Pghlesbian24
We need your ongoing support to maintain this archive and continue the work. Please consider becoming a patron of this blog with a recurring monthly donation or make a one-time donation.
Venmo @PghLesbian  CashApp $PghLesbian
This post and/or others may contain affiliate links. Your purchase through these links support our work. You are under no obligation to make a purchase.