From the Washington Post courtesy of the Post-Gazette.
The erosion of DADT may come case by case as discharged military seek redress through the Courts and the military is unable to meet this criteria of "furthering government interest".
The same government which refused to debate this on the Senate Floor can't make a substantial court case to show why this policy is necessary. The Republicans use rhetoric of fear, hatred and intolerance to rally their base and the Democrats expect their progressive base aka "us" to be content with the drip drip drip approach.
Do we really expect the ACLU to take up every discharge case? Does that mean our campaign contributions are better invested in judicial races and legal organizations than advocacy groups? I mean that ACLU is accomplishing something.
A few more injured members of our military will receive top notch nursing care when the best and brightest are rightfully restored to "our" armed services.
sdf
**********************************************
This blog proudly built by snowflakes, social justice warriors, and the politically correct.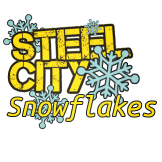 Join the Steel City Snowflakes with a one time or recurring investment in our projects.  Click the image  to see our current snowflakes.
Follow us on Twitter @Pghlesbian24
This post and/or others may contain affiliate links. Your purchase through these links support our work. You are under no obligation to make a purchase.