The City Paper's own Lauren Daley was front and center at the very first meeting of the Allegheny County Human Relations Commission. Sadly, the 8 AM start meant I had to be at work and could not be part of this historic moment. However, the man called Potter has the scoop over at Slagheap.
Front and center was an issue near and dear to my little heart — providing domestic partner benefits to employees of Allegheny County. The Chief Executive has asked the HRC for recommendations on this matter.
The commission also asked to receive a report on extending domestic partner benefits to all county employees by its June meeting. Kennedy said her department has been researching the matter and found there could be tax implications for employees.

"It raised more questions than it answered," she told the commission of her research. "There are things we need to look for more information on."

Based on that report, the commission will make a recommendation to Dan Onorato, something the county exec requested, McGough said. Commissioners seemed generally supportive of the idea.

"To me," observed commissioner Sara Davis Buss, "it's the right thing to do."

"I want to get it done right. This is our first big thing and I want to be fast but I want it to be fast, thorough and complete," said commissioner Mark Nowak.
Yes, the tax implication needs to be made very clear to employees who opt in for these benefits. It is grossly unfair and legislation has been repeatedly introduced at the federal level to address this inequity. It would be wonderful for Allegheny County legislators and executives to join the chorus calling for this redress while at the same time addressing the issue locally. I am all for highlighting and addressing this unfair tax burden.
I can speak from experience that the money we spend on the additional taxes (my "partner" benefits are considered taxable income, not a pre-tax benefit) is significant, but offset by the savings of the family benefits. In some cases, the costs don't make it the right decision — it all depends on how good the benefit package is, after all.
Still, the benefits are a choice. As long as the County makes the tax implications clear, they are doing the best they can to support all families in their employ.
Congratulations to the members of the Human Relations Commission on a successful start. Check out Potter's summary to see what the plan is to address the discrimination complaints. As always, a thorough run down on the issues that often slip under the radar.
sdf
**********************************************
This blog proudly built by snowflakes, social justice warriors, and the politically correct.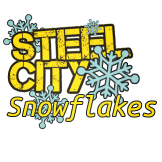 Join the Steel City Snowflakes with a one time or recurring investment in our projects.  Click the image  to see our current snowflakes.
Follow us on Twitter @Pghlesbian24