The good word from this week's Pittsburgh City Paper is good for Pittsburgh's Progressive Community … the Gertrude Stein Political Club of Pittsburgh has found new leaders to keep this legendary institution going strong.
When the Gertrude Stein Political Club of Greater Pittsburgh made its endorsements for the May 18 primary this year, they came with a plea attached:

"This will be the LAST endorsement by the Gertrude Stein Political Club … unless new members are willing to take on leadership roles and duties."

Swissvale resident Todd Bryner heard the call after it appeared in the April issue of Pittsburgh's Out, a monthly gay publication. Bryner's partner pasted the note to his medicine cabinet, and Bryner decided to step forward — "So all the work put in doesn't go to waste," he says.
Gertrude Stein has been THE political voice for the LGBT community for 30 years, a role they now share with the Steel City Stonewall Democrats. The prospect of losing that rich history, including a significant level of participation by the heterosexual community, would be a travesty.
You can check the slate cards yourself here, dating back to 1999.
The Club hasn't been afraid to take hard stances when it comes to their endorsements. In 2003, the Pittsburgh Tavern Guild barred the Club materials from their businesses and forbid their entry for the traditional "bar crawl" to promote the endorsed candidates. The Tavern Guild objected to the group's failure to endorse then City Councilman Gene Riccardi. Riccardi is against a woman's right to choose, thus conflicting with the Club's stated values.
There is the obvious problem. It is our understanding that you will not consider an endorsement for a candidate who is not supportive of the Right to Choose. While of interest and concern to many of us, we believe that this is a Feminist Issue. To give it weight over the actual Civil Rights of Lesbians, Gays, Bisexuals and the Transgender segments is not only wrong headed, but in conflict with what Our Community has come to expect from you. The Community has looked to you for years to know who our friends are. By failing to endorse Gene Ricciardi, you have left the impression that he is not a friend of the Community.
The bar owners were incensed and did not hesitate to flex their considerate political muscle.
For years, many of us in the bar Community have worked for, contributed to and generally lobbied candidates. Your actions are in direct conflict with ours. As such, we can no longer welcome you into our businesses. We believe that your actions are harmful to the relationships we have built over the years with our political friends and in the long run to the LGBT Community. By permitting you and your literature into our businesses we would be complicit in this farce that you actually represent the Community or are qualified to endorse candidates. Your actions in this matter have proven that you are neither.
Sad that otherwise educated men fail to recognize the political connection between LGBT equal rights and choice. This disconnect continues to amaze me, but that's another post.
Gertrude Stein perservered, remaining committed to the member driven priorities. And here we are … they are still considered a progressive powerhouse in this region.
Kudos to Todd Bryner for stepping up to maintain the credibility and authority of the Gertrude Stein club to Pittsburgh's LGBT community. I encourage you to join the organization and help build up the ranks. I look forward to what the future brings in regard to LGBT politics.
I also want to give a little shout out to the City Paper's Lauren Daley, a relatively recent addition to the City Paper staff. I was very impressed with the time and energy she's invested in getting to know the LGBT community. Sitting through a two hour political meeting to simply get a feel for the local LGBT political scene speaks volumes about the quality of the City Paper and the increasing significance of our community, politically speaking.
All in all, a good week
**********************************************
This blog proudly built by snowflakes, social justice warriors, and the politically correct.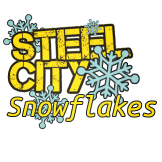 Join the Steel City Snowflakes with a one time or recurring investment in our projects.  Click the image  to see our current snowflakes.
Follow us on Twitter @Pghlesbian24
This post and/or others may contain affiliate links. Your purchase through these links support our work. You are under no obligation to make a purchase.