Last night, we had a little gathering at Hoi Polloi Cafe for folks to get to know Joe Hoeffel. We had a chance to interact with Joe live via Skype which was very cool. I felt like a babbling idiot because he's so incredibly smart and I don't quite understand progressive taxation. But I'll learn!
So anyway, Joe's campaign has some videos out that you should see. This one leaves no uncertainty as to who is the REAL progressive in the Governor's race. There's no pussy footing around issues. There's no waffling on the choice issue. There's concrete commitment to progressive values, including a commercial that shows TWO MEN GETTING MARRIED.
Here's the YouTube channel for the Hoeffel videos.
sdf
**********************************************
This blog proudly built by snowflakes, social justice warriors, and the politically correct.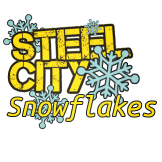 Join the Steel City Snowflakes with a one time or recurring investment in our projects.  Click the image  to see our current snowflakes.
Follow us on Twitter @Pghlesbian24
This post and/or others may contain affiliate links. Your purchase through these links support our work. You are under no obligation to make a purchase.