The old joke about the divide between Pgh and Philly seems to have some truth which is not funny.
I'm going to try and do a better job of sharing developing Philly news with you.
Philly has an LGBT Police Liaison Committee. Dear Lord in Heaven. Can you imagine? We can't even get a coherent spokesperson on the evening news.
On my quest for new information, I found EDGE Philadelphia. Kind of club heavy, but there is a little good stuff there. It would be nice to see something like this in Pittsburgh. Well, it really wouldn't matter because there's no local content and I don't care what rich gay people do in other states. But I found it.
ACT UP Philly has a blog.
I like Suburban Guerilla.
And that's it. I sent 27 email messages out today and got 15 leads back to the same person who can't help me.
OK, I'm exaggerating. I had 2 cubes of cheese for dinner and the Wii yelled at me for being too rigid so my mood is decidedly lacking in chipper. For those of you who follow the Wii adventures, I finally FINALLY aced the soccer ball balance game so I did end my session on a high note.
Seriously. Philly? What's up?
**********************************************
This blog proudly built by snowflakes, social justice warriors, and the politically correct.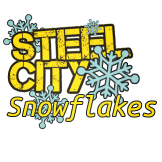 Join the Steel City Snowflakes with a one time or recurring investment in our projects.  Click the image  to see our current snowflakes.
Follow us on Twitter @Pghlesbian24
This post and/or others may contain affiliate links. Your purchase through these links support our work. You are under no obligation to make a purchase.