Wow, first weekend in December and we've wrapped up most of our shopping. I did about 30% online and the rest in local stores. Of that, its a 50/50 split between small business shopping and chain store shopping.
I don't know what came over us. We actually picked something up for the niece and nephew in August! I got a great sister-in-law gift courtesy of a silent auction. Ledcat found her mother's gift in a unique gift store — K.S. Kennedy Floral. A stop at A Pleasant Present was a must and we need to go back.
My online shopping was Barnes and Noble, followed by Ebay. B&N actually handled an error on their party by giving me a free renewal on my membership card. I was pleased. The new marketing tool of offering everyone the member discount during the holidays was offputting. I see the vision of attracting new business, but it needs to build some kind of win for members who fork over an annual fee. I shouldn't complain because I do make my money back, but still … not a great idea overall unless they dump the program and just lower prices in general.
Kids are increasingly challenging to shop for. You want to be reasonable, but everything is so gender specific. It is hard to find something as simple as a plain grey sweatshirt or a simple pair of affordable jeans for a toddler. Everything has a theme or a design. We've given up on toys and head straight for books. I like to dig through the multicultural books. This year, I discovered that the Little House on the Prairie books have been broken down into age appropriate chunks. So I scooped a bunch up for my niece who will be 4. Nevvy would still be happy with boxes and wrapping paper to crumble so he's easy. My second nephew lives out of state so I am stumped beyond a gift card.
Still, the duty of the aunt calls. My goal for this year is to put together a box of stickers so she has the pleasure of abundance. I'm the aunt who shows up with a giant bag of army figures for birthdays much to the delight of a child and the chagrin of a parent thinking of her vacuum cleaner.
Letcat is tough. I tried to be creative and honor her heart's desire. Ebay is fruitful for the woman who has everything (or everything I can afford, ha).
So retail sales seem to be in a weird place. We stopped by the Waterfront yesterday and it was quite empty. Got out just before the snow set in and came home to a quick dinner followed by a screening of "Go Fish" which was an odd movie. I am not one to embrace the lesbian movie for the sake of the movie. This isn't something I'd watch again, but always good to give things a try. I was feeling wrung out after some personal drama so it was good to kick back and relax.
One last note. I'm still a fan of foursquare.com. I realize it is intended to connect people to hip fun places. "Hey, Julie is at XYZ bar; let's stop in and say hello." That sort of thing. I find myself drawn to promote the places I support regardless of the nature. I entered my mechanic because you never know if someone might want a good mechanic. I think foursquare, like Twitter, will morphe into something larger. At some point, the venues are going to jump on board and ensure their information is accurate as well as monitor the comments.
Last night, we stopped in P.F. Changs because we had a coupon for a free appetizer. To my delight, the manager remembered us from our previous visit. I had tweeted I was going and the PF Changs twitter person (great job, btw) caught it and planned for a little treat to reward us for the marketing tweet. Little did I know that Lisa the manager had been notified by a staff person of our impending visit (we had a reservation) and already planned a little treat. It was a great experience. She then told me she read my blog post and posted it in her office. Nice.
To our surprise, we got another round of complimentary appetizers and dessert. We also had a nice chat with Lisa about dining in Pittsburgh. It was a great meal and I, of course, tweeted as we went along … using foursquare.com. This sort of embrace of social media is very satisfying from a customer point of view. My impression of PF Changs is higher than ever. I don't expect the freebies all of the time, but I do appreciate a chance to get to know the manager and continue to enjoy what has always been good service. It was a lovely way to fuel up for some drudging shopping chores.
ps: I also hit up Dunkin Donuts on Browns Hill Road over my vacation for a bagel sandwich and a mocha. Sandwich was good, mocha was actually a plain latte which I had to get replaced. It was just okay. I wouldn't waste the calories and stick with a plain of coffe that I know is good. Twitter definitely drove me there. Yeah, I also "checked in" via foursquare. It is my personal version of Farmville.
**********************************************
This blog proudly built by snowflakes, social justice warriors, and the politically correct.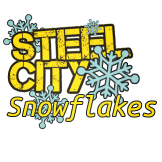 Join the Steel City Snowflakes with a one time or recurring investment in our projects.  Click the image  to see our current snowflakes.
Follow us on Twitter @Pghlesbian24
This post and/or others may contain affiliate links. Your purchase through these links support our work. You are under no obligation to make a purchase.