I've created a Twitter "list" of Pgh regional and statewide elected officials and politicians using Twitter. You can find it here:
http://twitter.com/PghLesbian24/politicians-pgh-and-pa
So far, I've identified 53 pol-tweeps. The vast majority are members of the State House of Representatives. From Pittsburgh, the pickings are a bit slim. You can find Pgh City Councilmembers (and members-elect) Bill Peduto, Patrick Dowd and Natalia Rudiak. They take different approaches. Peduto mixes progressive political agenda with an occasional glimpse into his daily activities (lots of hockey references). Patrick Dowd tends to share more about his family and day to day life. Natalia is more of a "life of a local councilwoman" tweeter — updates on meetings and events she attends as well as lots of positive PR for her neighborhoods.
All three are approaches that make our elected officials more accessible and add some transparency to the political process, the hallmarks of progressive politics.
Luke Ravenstahl and Dan Onorato have twitter accounts, but use them next to zero. Well, Onorato uses it a bit for the campaign, but sparingly at best. Actually, his campaign has an account they've never used even though 50+ follow it! For relatively young elected officials, they are being trounced in the social media arena and reinforcing the perception that they are deeply embedded in the 1970's style of governance.
I just added Elizabeth Borough Council President and Executive Director of the Alleg County Republic Committee, Monica Douglas. I haven't caught any of her tweets, but I was impressed that she's using social media tools to highlight a very local political venue AND promote the party. They need to be more active, but the ACDC isn't even a blip on this radar much to the shame of all of us. Steel City Stonewall Democrats are using Twitter.
I'm not aware of any other municipal officials using Twitter in this region. If you have someone to add to the list, by all means send the information to me. I'm @pghlesbian24.
Statewide, things really heat up. Senator Daylin Leach from way across the Commonwealth burns Twitter up with by far the most wry observations on things both local and national, as well as self-deprecating glimpses into his own life. I didn't like Senator Leach when I met him in person, but his tweeting is slowly melting that first impression.
I haven't even heard of half of the other folks using Twitter. The problem for me is that I forget who is a D and who is an R since most of them are tweeting a mix of personal and general observations on statewide legislation. I've never had so much statewide legislative information at my fingertips which is pretty cool, especially in 140 character chunks. I am clicking on the links and learning about issues, but I resolve to be more attentive to this in 2010.
Back to the D and R issue … this is probably a good thing. It helps to keep in mind that these are human beings, not just party robots. They have families and adventures and all the same tweetable stuff as do I and other LGBTQ folks. Some of the elected officials have followed me in return, so I can at least hope that the various glimpsed into my life as a lesbian in Pennsylvania might make our community a bit more human to those who might otherwise vote against our equal inclusion in society. To be honest, I've retweeted a few and replied to a few; most respond to me.
That leads me to another point. It is clear that the persons behind the tweets are really the politicians themselves. The personal glimpses make that evident. The campaigns, on the other hand, are clearly tweeted by staff with a defined message. And the campaigns are not doing a very good job of using Twitter. The tweets are boring and far too infrequent to make much of an impact. Ironically, the best tweeps are Senator Specter and Wagner for Governor — the old gray guys are trouncing the progressives like Sestak and Hoeffel. Specter is very entertaining, actually.
If I called Representative XYZ's office, I might get a meeting. If I'm important, I might get a return call. If I email, I'll get a response from a staffer. But the immediacy of Twitter is pretty enticing … when I hit the @ function, I often get an immediate reply. Now, I've never tried this with a political/advocacy issue, but I'm going to experiment with this in January. There's potential for the sort of access the LGBTQ community needs. If I'm paying attention to RepGordon and learn he's an avid fan of local football, I can bring that up during my meeting with him. I can take note of his banter with RepDePasquale, I can bring that up and see if there's an opportunity to build on that relationship. Plus, I can figure out what's important to Representative Gordon — gaming legislation has been a topic of frequent tweets.
Advocates would be foolish to pass up this opportunity to interact and learn about our elected officials. These folks are tweeting on Saturday afternoons and you can engage them right then and there. "Hey, my son is playing today, too" or "I caught those lights at Hartwood last night — great holiday tradition" blah, blah, blah. It creates the relationship that makes your email/call/visit more impactful.
Politicians and elected officials are foolish to pass up this chance to connect with their constituents. I might click the link to the 152 page document precisely because I have been following you for 6 months and appreciate your tweets. I might then contact my state rep and talk about your issue. I might even donate to your charities, campaign or party. You have an unprecedented opportunity educate me and forge a relationship on an interpersonal level that no newsletter, public forum or website can ever offer.
Who would I like to see tweeting? Michael Lamb because he is smart and working on issues people should better understand. Rich Fitzgerald because no one really knows what Allegheny Council does until there's threat of a court battle. Jim Burn because the ACDC is woefully behind the times in general and needs fresh blood. Chelsa Wagner because she's smart, witty and has the unique perspective of legislating with a very young child — there's a lot of mommies on twitter and a real chance to inspire. I'd like to see someone from Pgh School Board. I'd like to hear from Robert Daniel Lavelle who is being heralded as a progressive voice on a new City Council.
For now, the tweet king of Southwestern Pennsylvania is Bill Peduto. He has the most followers, sends the most updates and uses the technology like a pro. Hands down, Peduto has a savvy grasp on the power of social media and isn't afraid to use it to continue leading the progressive agenda in this region. No, to continue defining the progressive agenda in this region.
However, the entire GOP is breathing down his neck. The failure of SW Pennsylvania Dems to follow Peduto's lead may come back to haunt the Democratic party.
Here's a screenshot of my politician tweeps.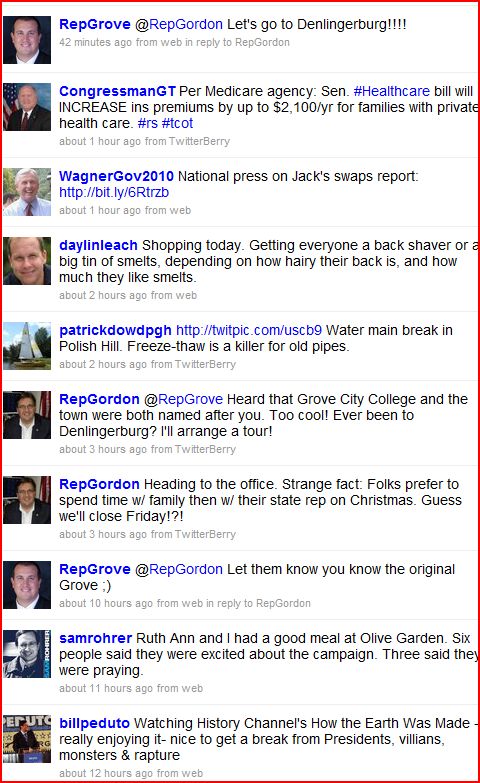 sdf
**********************************************
This blog proudly built by snowflakes, social justice warriors, and the politically correct.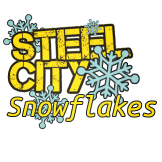 Join the Steel City Snowflakes with a one time or recurring investment in our projects.  Click the image  to see our current snowflakes.
Follow us on Twitter @Pghlesbian24
This post and/or others may contain affiliate links. Your purchase through these links support our work. You are under no obligation to make a purchase.