Two quick items we mentioned last night on Sister ShOUT that are worth your attention.
First, legislation introduced in the Senate to amend the Constitution of Pennsylvania so as to define marriage as only between a man and a woman, the so-called Marriage Protection Amendment, has some legs. It is still in committee, but word is that it just might be voted out and to the floor of the Senate. So not good. What a ridiculous waste of time and energy when we don't have a state budget. If you have a moment to call your State Senator, you might want to point out that getting married is not a high priority when many of us worry about our jobs, our services and our community due to their inability to get the budget passed.
Second, the Reading City Council ended September with great news by passing an inclusive anti-discrimination ordinance. Reading is now the 16th municipality to provide these protections for citizens. Congratulations, Readingers!
**********************************************
This blog proudly built by snowflakes, social justice warriors, and the politically correct.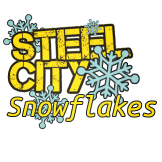 Join the Steel City Snowflakes with a one time or recurring investment in our projects.  Click the image  to see our current snowflakes.
Follow us on Twitter @Pghlesbian24
This post and/or others may contain affiliate links. Your purchase through these links support our work. You are under no obligation to make a purchase.