The Post-Gazette endorsed four candidates we've discussed before. Joe Williams, Hugh McGough, Arnie Klein and Don Walko have all sought the Steel City Stonewall endorsement. Again, this is not the sole factor in a vote for the Court of Common Pleas, but it is something I think worth noting.
Hugh's team has been especially adept at using social networking in his campaign. They regularly use Facebook to send out information and announcements. It has been an interesting glimpse into a judicial campaign as well as a County wide race. I'm impressed by Hugh's stamina to zip from one end of the County to another and seem genuinely excited about it all. His understanding of social networking is probably the best conduit to make this race resonate with young voters.
I like all four and we get to vote for five.
A follow up on the district magistrate information. While sorting through the recycling/shredding pile, I found campaign materials from Dan Styche indicating that I may have signed his petition. While I feel utterly ridiculous not remembering doing so, I am drawing a complete blank. This has to mean he was at the Steel City endorsement as that is the only place I signed petitions. So that's good. To be fair, I can't remember so I'm not sure if the other candidates were there as well. It would be interesting if there were endorsements on this race since it has a lot of impact on everyday life, but I can imagine that would be overwhelming.
I also found campaign literature for Jackie Hoffman. She has some practical knowledge of the system having been the office secretary for over five years and having a degree in Criminal Justice. She makes concrete commitments like having evening hours. Still …I'm not persuaded. Yet.
I also began to notice the yard signs for Dean Birdy. They are all over Manchester where I believe he resides.
I also received a personal email from a friend vouching for Derwin Rushing. He wrote very passionately about this person's qualifications and his community support. Rushing also has a lot of visible community support in Allegheny West, Central Northside and the War Streets.
Still not sure of what exactly the magistrate completely does. I just know bits and pieces.
So anyway I have a better understanding of their professional qualifications for this position. Birdy and Rushing are attorneys. Hoffman has worked there for five years and Styche has been a constable for years (don't underestimate practical day to day experience). McLellan is a police officer.
I'm still undecided.
**********************************************
This blog proudly built by snowflakes, social justice warriors, and the politically correct.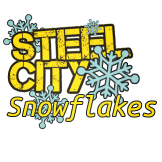 Join the Steel City Snowflakes with a one time or recurring investment in our projects.  Click the image  to see our current snowflakes.
Follow us on Twitter @Pghlesbian24
This post and/or others may contain affiliate links. Your purchase through these links support our work. You are under no obligation to make a purchase.