Can you believe that "Big Queer Rally" wasn't an overwhelming hit as the official title for Saturday's rally? I think it is pretty catchy myself. It certainly has been drawing in the visitors using various fundie, wingnut search tems.
Anyway, we had a meeting tonight. Here's the latest scoop.
City Council President Doug Shields is on the agenda. I have him lined up to knock the message out of the house.
There will be several opportunities for you to get involved right there, including signing petitions and contacting your County Councilpersons RIGHT THERE about this upcoming vote on January 15, 2009. So bring your cell phones, PDAs and Blackberries.
There may be free coffee. Courtesy of Starbucks. It is what they do. Because they care. If you want to donate something free for 300+ people, bring it on.
Big Queer Emcee, Gab Bonesso, is prepping some good stuff for you. She plopped herself down at the meeting and demanded a "warming tent" (which she got) so you know this woman is ready to kick some ass for gay equality. Be prepared to be amused. And pissed off. Apparently, she's bringing a shark and a 90 year old imaginary British woman as props. Only at a Big Queer Rally does that seem entirely appropriate. Almost necessary.
The best thing about tonight? These seemingly random people came to the meeting to help. Because they care. They are angry and they care enough to do something about it. I've been blabbering on about them all night long. People care.
If you'd like to do a little something extra, show up at 1 PM to volunteer. We need folks to handle the advocacy table, make sure the guest speakers get to where they need to be and be a time keeper. Someone has to watch the coffee table. There's stuff to handout and directions to the bathroom that need to be circulated. Someone has to guard the warming tent. You don't have to talk or know anything about politics or be part of any formal group to join this impact, baby. Just care. Bring your anger and yourself down to Schenley Plaza on Saturday.
**********************************************
This blog proudly built by snowflakes, social justice warriors, and the politically correct.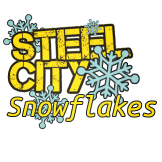 Join the Steel City Snowflakes with a one time or recurring investment in our projects.  Click the image  to see our current snowflakes.
Follow us on Twitter @Pghlesbian24
This post and/or others may contain affiliate links. Your purchase through these links support our work. You are under no obligation to make a purchase.