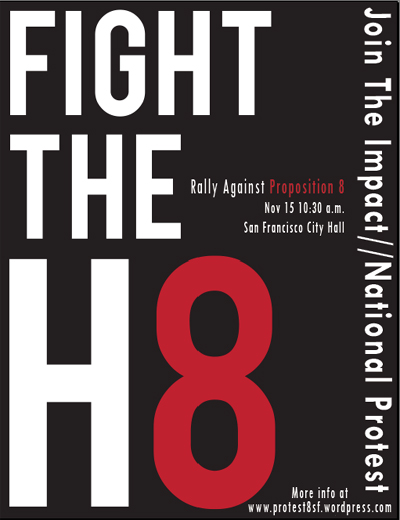 Here's your chance to be part of the nationwide outrage over the passage of California's Proposition 8 which amends the state constitution to limit marriage between a man and a woman.
11/15/08. Join your queer brothers and sisters, and our allies, this Saturday, November 15, at the City County Building at 1:30 PM. From Join the Impact website:
On the steps of your City Hall on November 15th at 10:30am PST /
1:30pm EST, our community WILL take to the streets and speak out
against Proposition 8 and all of the other pro-equality losses that we
have faced in our lifetimes, in our parents' lifetimes, and for many
generations before us. WE CAN'T DO THIS ALONE! WE NEED YOUR
HELP! We need organizers in every major city to work with us and
get out the protest! I know you're all tired from all of the work
you've done for this great election year, but I'm asking for one more
push! Let the country hear our voices together. Let them
see that we are a strong, adamant, and powerful community that deserves
equal rights, and CAN'T BE DEFEATED!
Why should you get riled up over a California issue and give up your Saturday afternoon to protest about marriage rights when we here in Pennsylvania struggle to beat down marriage amendments of our own and don't have the clout in Western PA to hold the Mayor accountable for his promises to appoint a gay liaison?
Well, that's exactly why. You can stay home and let the same few straggly group of advocates determine the priorities of our community and send that message to our legislators. Or you can get off your butt and take a stand. It just doesn't get any sadder that to realize our nation elected Barack Obama and, in the very same day, four anti-gay propositions were approved in their respective states. Fingers have been pointing at the various folks we could blame for that sad state of affairs — the Mormons, the Catholics, the African-American faith communities, etc.
The truth is that we must first accept our own share of the blame. Our opponents were better oganized and had an appealing message. Meanwhile, our community refuses to wrestle with the looming questions of the racism, transphobia and sexism which plague our community, not to mention the economic issues. We bury our heads in the sand and the best we get is a watered-down version of ENDA — it was appalling that Congressman Jason Altmire was APPLAUDED for his vote on that non-inclusive legislation (I like Jason, but we lost an opportunity to educate him when he got a pass on that one.)
So, what will a protest on Prop 8 do for Pittsburgh's queer community? For starters, it gets us out and mingling and tallking. It brings us together and builds a foundation and makes this battle more than the work of the same 5 or 6 local advocates. It makes the battle about all of us. It is our lives and I for one don't think its very acceptable that legalized gay marriage was bitch slapped back into the 20th century, even if I personally don't think marriage is the most important civil rights issue for the gay community.
So, we plan to be there on Saturday at 1:30. Hopefully, I can live blog if I find somewhere to rest my laptop.
How much will you tolerate before you come out?
************************************************
For 18+ years,  snowflakes, social justice warriors, and the politically correct have built this blog. Follow us on Twitter @Pghlesbian24
We need your ongoing support to maintain this archive and continue the work. Please consider becoming a patron of this blog with a recurring monthly donation or make a one-time donation.
Venmo @PghLesbian  CashApp $PghLesbian
This post and/or others may contain affiliate links. Your purchase through these links support our work. You are under no obligation to make a purchase.