UPDATE: Photos now included.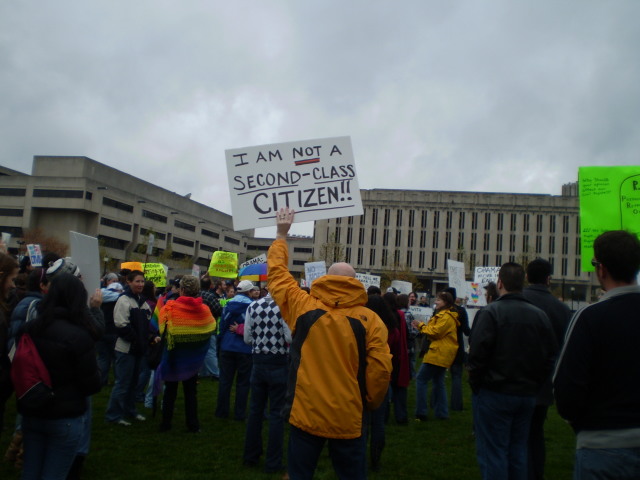 Wow. Pittsburgh turned out a crowd of more than 500 people (independent counts, not the organizers) in the Oakland area of town to protest the passage of California Prop 8 and demand equal rights for LGBTQ families. What began as a loosely organized effort turned into a large crowd of adults and children milling around Schenley Plaza and then taking to the streets for a very orderly and loud impromptu march around the Cathedral of Learning. Bearing signs and chanting the age-old calls for equality, Pittsburgh's queer community has clearly taken to the heart the national cry to rise up and demand change for our community.
Most major media outlets were present and busily interviewing the array of families who turned out with signs, strollers and something to say. I caught up with Equality Advocates' Jake Kaskey and a few old friends, but the vast majority of the crowd were folks I've never met before. Nonetheless, a friendly vibe pervaded the event with folks sharing signs, ensuring their neighbors got safely across the street and generally reveling in the festive nature of the crowd.
There was some police presence, mostly university police from CMU and Pitt. Ledcat picked out the police in unmarked cars, but they were fairly unobtrusive.
Throughout the march up Forbes and back down Fifth, we heard lots and lots of honks of solidarity with only a few perplexed stares. I counted no negative incidents. Click here to see what's happening around the country.
I don't have my cable to upload the photos so those will follow later tonight.
I was blown away by the turnout for this event, especially after all the confusion about location and the lack of participation from the major local groups. GLSEN, PFLAG and the Renaissance City Choirs turned out with the latter doing a lovely performance. Pittsburgh did itself proud. Kudos to Misty for showing what one person can accomplish even without the participation of the old-timers.
The question is whether this will make any difference. Let's hope Steel City and Gertrude Stein and other groups will find a way to tap into this energey and transform it into direct advocacy on local and statewide gay rights issues. The energy is there as is the willingness to do something — our charge is to find a way to channel that into something proactive. We need to step up the advocacy work on HB 1400 and the Allegheny County anti-discrimination and not just sit back waiting to react to the anti-gay efforts of our opponents. Today was about far more than gay marriage — it was about our entitlement to full and equal rights.
If you feel the energy, I encourage you to go to Steel City Stonewall and get involved. Come back later and see the photos.
**********************************************
This blog proudly built by snowflakes, social justice warriors, and the politically correct.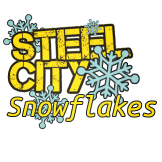 Join the Steel City Snowflakes with a one time or recurring investment in our projects.  Click the image  to see our current snowflakes.
Follow us on Twitter @Pghlesbian24
This post and/or others may contain affiliate links. Your purchase through these links support our work. You are under no obligation to make a purchase.