Arrggg. We'll cross the 48 hour mark tonight and word on the street is that we may have to wait until FRIDAY. It is all rumor b/c distributing information seems to be a big weak spot in the world of Duquesne Light. All of this — all of this — would be much better if we just had some information as to what is going on here in Manchester (as I'm sure others feel, too).
Today, we discovered that while the frozen food may last 48 hours, the auto ice machine doesn't so we had small river on our floor along with sopping wet frozen food. Bye-bye popsicles and organic turkey. We have one cooler with a half gallon milk and half an Italian sub to tide us over. I hate Italian subs.
Plus, I seem to have bronchitis. It began as a little tickle in my chest and now I'm in agony. We'll see what the good doctor says tomorrow, but I'm suspecting I'm going to have to spend my vacation (next week) recovering and probably not walking in the Great Race the following weekend. Which completely sucks.
So I was miserable when I got to work today … phlegmy, wet, grumpy and so forth.
Then it got worse. My college roomie and friend of 20 years told me that her 34 year old brother, Father Michael, had died unexpectedly. As if there is anything to expect about the death of a 34 year old man. I've known Michael since he was just a nice kid who enjoyed when we came to visit him from college. I last saw him in June 07 when he presided at the wedding of his sister. He bought me a cross as a gift and we spent the weekend calling each other goofy names. I had nicknamed him Duke back in college (reason unknown) and went around adding "Duke Kenny" to the mailing list of any Catholic site that I visited. His mother still gets that mail.
Father Mike was the best of men. He never judged me or changed the way he treated me a single bit when he learned I was a lesbian. He lived what he preached and that's rare enough in this world. I cannot imagine this world without him. I'm not one for sentimental visions of heaven, but I must admit that it makes me feel better to imagine him reunited with his father and looking down to comfort the family here on earth.
The world really is a bit darker this evening. God rest his soul.
**********************************************
This blog proudly built by snowflakes, social justice warriors, and the politically correct.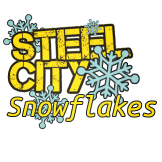 Join the Steel City Snowflakes with a one time or recurring investment in our projects.  Click the image  to see our current snowflakes.
Follow us on Twitter @Pghlesbian24
This post and/or others may contain affiliate links. Your purchase through these links support our work. You are under no obligation to make a purchase.