Great story from the Post-Gazette
People labeled Patrick Arena "a fairy" early on.

As the only boy in tap classes at the Vella School of Dance in Washington, Pa., in the 1960s, he was taunted and whispered about.

"Truth was, I knew I was gay, but I certainly wouldn't admit it," says Mr. Arena, 57, of Washington. "There was nobody to discuss it with and I was afraid to discuss it anyway. I certainly couldn't talk about it with my parents or guidance counselor."
Is life better now for rural queers? Ledcat grew up in the country and she has some very strong opinions on this. I want to retire to her family's farmland when we get old. She wants to live Downtown. Hmmm.
Go read the story. I'm at the end of a tiring day so no energy to analyze the article. The part about the Sugar Plum Fairy breaks my heart, though.
**********************************************
This blog proudly built by snowflakes, social justice warriors, and the politically correct.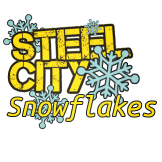 Join the Steel City Snowflakes with a one time or recurring investment in our projects.  Click the image  to see our current snowflakes.
Follow us on Twitter @Pghlesbian24
This post and/or others may contain affiliate links. Your purchase through these links support our work. You are under no obligation to make a purchase.