As this group finds its footing in the party and the region, I have for the most part been impressed with the new leadership (and recent leadership). I'm particularly pleased that they have invested some resources on issues as opposed to just elections. It is important that LGBT Democrats send a clear message to our elected officials on how we view issues and what steps we can take as a community to express our position.
That being said, I do worry that the organization "dilutes" the impact of their endorsement. First, there has been a tradition of naming individuals to an honor roll of sorts — "Honorable Mentions" — indicating they are good on issues, but didn't receive the endorsement. Sometimes they didn't submit a questionnairre, but the group feels they deserve consideration. I'm just so-so with that practice. It isn't really democratic and doesn't make the actual endorsement that valuable.
Another example was Friday when the organization used their official email blast to inform us of an upcoming LGBT event for Hillary Clinton, the endorsed candidate. Great. That's a good use of resources. A few lines down there was a listing for an Obama event. Huh?
I'm not offended, but I am confused. Is that organization's purpose to elect a slate of candidates selected by the members or is it to educate the general LGBT community on all Democratic candidates, information and events? Either is fine I suppose, but trying to do both is sending people like me — members — conflicting signals.
Here's my ultimate question — why should I turn up for an endorsement process when it doesn't carry a lot of weight? If you are going to promote candidates who were not endorsed, either as Honorable Mentions or by promoting their events, why should I care about the endorsement? What value does it have?
In my opinion, the slate should be the slate. Individuals should be free, of course, to promote whomever they choose, but the origanization should focus on getting folks from the slate elected and not dilute resources on candidates who are not on the slate. No matter what the reason. Maybe next year, they'll fill out the questionnaire or show up at an event. But if Steel City can mobilize the local LGBT community to have an impact on a handful of elections, they have done their job as well as sent a message about our political power.
The endorsement of Steel City should be coveted by local Dems and something they have to earn. We shouldn't settle for anything less.
That being said, please consider joining the organization as Ledcat and I have done. It is a long way to November. In practical terms, you should be deciding if Luke Ravenstahl needs to do more than show up at PrideFest to earn your endorsement.
**********************************************
This blog proudly built by snowflakes, social justice warriors, and the politically correct.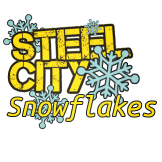 Join the Steel City Snowflakes with a one time or recurring investment in our projects.  Click the image  to see our current snowflakes.
Follow us on Twitter @Pghlesbian24
This post and/or others may contain affiliate links. Your purchase through these links support our work. You are under no obligation to make a purchase.