Ok, this is really bugging me so I have to post to get off my chest. As a Northsider, I am a frequent flier at the best little bakeshop over here, Priory Fine Pastries on East Ohio Street. I stop in to pick up bread, muffins for weekends breakfasts and the occasional pie/cake for a dinner party. I usually get cookies, too. Yum.
Last week, I picked up some PMS cookies and heard the staff person tell a woman at the coffee station that they were out of napkins as she handed her a paper towel.
Fast forward to this afternoon. I have 45 minutes to kill before my car is ready so I trot in here for coffee and a snack (and access to an outlet.) When I pour my coffee, I realize I need a napkin so I ask the very cheerful young woman behind the counter. She tells me they are now out of both napkins and paper towels. In disbelief, I say "You have no paper towels in the store." She shrugs and nods. Apparently, the distributor has not provided them.
So as I sip my coffee, I begin to wonder what that means. No paper towels in the staff restroom? No paper towels to clean up spills and messes? No paper towels even though the Cedar Avenue Giant Eagle is probably a 3 minute drive from here? You can't send a smiling staff member trotting down the street to pick up a few rolls of Bounty to tide you over?
I'm sorry, but 99% of baked goods require some sort of dabbing materials upon consumption. There are flakes and crumbs. There is powdered sugar, jimmies and finely chopped nuts to contend with when you eat baked goods. It is not a pretty sight. If you want neat and tidy, eat carrots.
Especially, if you are eating PMS cookies.
So, now I have this nice little bag of bakery treats that I cannot eat b/c I have visions of bakery staff wiping their post-bathroom hands on their aprons and trotting up front. I'm sure they have bathroom paper towels or something, but still …
I should have gone to Beleza.
**********************************************
This blog proudly built by snowflakes, social justice warriors, and the politically correct.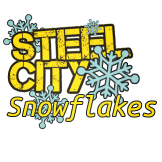 Join the Steel City Snowflakes with a one time or recurring investment in our projects.  Click the image  to see our current snowflakes.
Follow us on Twitter @Pghlesbian24
This post and/or others may contain affiliate links. Your purchase through these links support our work. You are under no obligation to make a purchase.